Stormwater detention/retention chamber redesigned for added storage capacity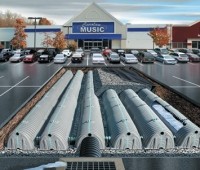 Cultec's redesigned stormwater detention/retention chamber offers a number of added features and benefits.

The Recharger 330XL stormwater chamber will be replacing the company's existing Recharger 330 model and features a chamber storage capacity of 52.2 cubic feet/unit, an increase of more than 12 percent over the existing design. The added storage capacity has been enabled by extending the installed length of the chamber by three-quarters of a foot; the actual length has been increased by a full foot, the difference being used for the chambers to connect via overlap and to provide added strength to the overall system. System flexibility has been enhanced by the inclusion of two side portals on each chamber. The use of these portals allows manifolding to take place at any point within the system, eliminating the need to build external manifolds, thereby condensing the system by decreasing the footprint required. The cross-feed capabilities enabled by the manifold's side portals offer greater flow than available from 18-inch diameter pipe. Each chamber also has the ability to accept up to a 24-inch diameter pipe into its endwall when greater flow rates need to be introduced.