Mass flow solution for bulk fluid measurement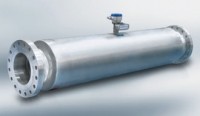 The Optimass 2000 is a large diameter Coriolis mass flowmeter for accurate and repeatable bulk measurement in the oil and gas industry. Using the tried and tested twin straight tube design of the Optimass 1000, the product range has been extended with the Optimass 2000 to provide accurate measurement for the bulk fluids market.

Available in three sizes, four-inch, six-inch and 10-inch, Optimass 2000 wetted parts are constructed of NACE compliant duplex stainless steel and the meter is available with flange ratings up to 1,500 pounds, and flange sizes from four-inch to 12-inch. One major benefit for the oil and gas industry is the low flow rate feature of the Optimass 2000. A lower rate of flow prevents the build-up of static in hydrocarbons without affecting measurement accuracy.