Amphibious all-terrain vehicle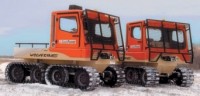 TAGS Systems manufactures and markets the Wolverine amphibious all-terrain vehicle for use in extreme terrain and under the most difficult environmental conditions. End users include oil and gas exploration and maintenance, vector control and military unmanned vehicles.

The turbo diesel Kubota engine coupled with an all hydrostatic drive system provides for a low maintenance highly manoeuvrable vehicle able to meet the toughest performance requirements. The welded tubular steel frame has undergone Finite Element Analysis to ensure the design will provide long term dependable performance to meet the needs of clients. Many available options including air conditioning, deck crane, snow blade, engine coolant heater and custom cargo deck permit clients to tailor the Wolverine for specific end use.