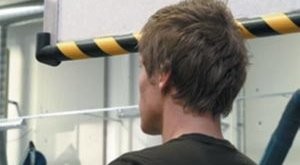 Knuffi Soft-Edged Bumper Guards are designed to address safety issues in the workplace. Manufactured in Germany, the tough bumper guard offers countless protective safety and warning solutions for industrial and commercial use. The design features a highly visible black and yellow striped covering to warn of danger or restricted access. Knuffi functions as a guard for covering indoor and outdoor wall edges, doorways and stair edges. Vehicles such as lift trucks, mobile equipment and trailers can be effectively protected by the new product, preventing costly equipment damage. One of its greatest benefits is that the use of Knuffi in the workplace will help reduce the number of head and knee injuries, leading to heavy expenses and productivity loss.

Manufactured from tough, recyclable polyurethane foam, the Knuffi soft-edged bumper guard is a high quality product guaranteed for long life under stressful operating conditions. The patented manufacturing process prevents fading and colour deterioration, producing a product that is sustainable year after year.
Simplicity of use is also a strong benefit of Knuffi. Installation is easy, enabling all employees to handle the process. Once the surface to be covered is thoroughly cleaned and grease free, the inner protective film is removed and applied to the desired surface. After installation, Knuffi is virtually maintenance free.