Stabil Drill sends patented Pneumatic Mud Bucket to Russia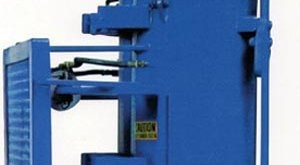 Stabil Drill, a Superior Energy Services company, has sent one of its patented Pneumatic Mud Buckets to Sakhalin, Russia, to assist on a rig with problems while breaking drill pipe, announced president Sammy Russo.

In this case, the rig was having problems when breaking drill pipe with WT-56 threads. When the pin was picked up, it would hang on the thread in the box if it was not perfectly centered. Keeping a 100-foot stand of 5-7/8-inch drill pipe stabilized is difficult when it is full of drilling mud.

To correct this problem, Stabil Drill modified its Pneumatic Mud Bucket by installing stabilization bars inside the bucket. These bars cover the length of the box and pin and are precisely milled to engage the tool joint outside diameter (OD) at the same time the mud bucket seals and locks. When the drill pipe is picked up, the tool joint slides up the stabilization bars, but cannot swing off centre.

This same configuration has been used in the Gulf of Mexico for several years with documented success.
Stabil Drill mud buckets collect drilling mud when pulling wet pipe and allow it to be stored and reused. This prevents mud from spilling on the rig floor and represents significant costs savings.