New low pressure regulator introduced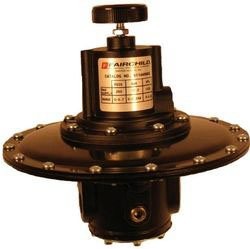 The new Model M4100 pressure regulator is designed with a large diaphragm to provide high sensitivity and high accuracy for precision control in extreme low pressure applications. These include leak detection, low pressure natural gas kick cells, tank blanketing, and other applications where output pressure must be continuously controlled to within +/- 0.005 psi or better – even with extreme cold temperatures or fluctuating supply pressures.
In addition, the high flow capacity (over 35 SCFM) of the M4100 pressure regulator makes it a highly responsive control device. Having output pressure ranges as low as zero to 0.07 psi, the unit's no bleed configuration provides precision pressure control, whether used as a single control device or as a control signal device to an existing pilot regulator.
Made from aluminum and stainless steel components, the M4100 is compatible with compressed air or natural gas and its compact size offers top performance in an economical package. Plus, units are available for quick delivery, enabling engineers to easily complete the design and installation of automated systems much faster.
Fairchild Industrial Products Company
Company info