Spill containment system designed to deal specifically with wellhead seepage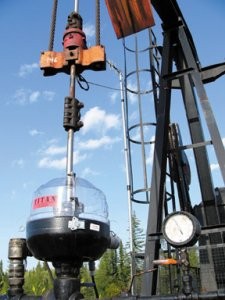 The Titan spill containment system is designed specifically to deal with wellhead seepage problems and works by capturing oil and produced water that escapes the wellhead due to repetitive rod motion and common seal wear. Units are designed to be simple to use and do not require the operator to leave the truck on their daily lease visits, which saves time. Plus, the complete unit can be installed in under 30 minutes, without tools and by most non-technical personnel.
According to Marty Mathews, the founder of Adoil Inc. who manufactures the Titan system, it deals with the widespread problem of wellhead seepage (today's high volume of produced water is destructive to rod seals), which often stains the ground before a messy leak can be fixed.
He says an average oil well in Western Canada is checked once every 24 hours, but many wells in remote locations are checked only once every 48 to 72 hours. In less than 24 hours, a small leak that develops can quickly lead to substantial environmental damage and a costly clean-up. On a chronic leaking oilwell, site clean-ups are often repeated several months later. Traditionally, to address leakage issues, companies may have installed pressure switches to the wellhead stuffing (seal) box.
"The problem is that if you have fluid leakage, you now have less pressure, so pressure switches often fail to work. Plus oil, water, wax or brine will generally plug up the switches' small tubing, resulting in no protection at all, and ERCB reports show that can lead to an expensive disaster," says Mathews.
The Titan spill containment system is an alternative to traditional pressure switches installed on a wellhead stuffing (seal) box. It is a practical, durable solution, much like the anti-freeze overflow containment systems mandatory on vehicles. It fits all wellhead stuffing box types, is compatible with all artificial lift systems and is designed to protect the ground and surface water (e.g. snow/rain runoff) beyond ERCB/EPA compliance. It is also designed to fit all rod lubricators and pressure switches, and to be strong enough to stand up to freezing winters and sweltering summers. The Titan's containment lid is made from polycarbonate (the same material used in hockey visors and airplane windshields) and its basin includes high-strength cast aluminum and corrosion-resistant stainless steel fittings.
In addition, these units are built user-friendly, enabling operators to quickly adjust the stuffing box packing without removal. Titan captures all the fluids, emulsion, and torn seals during a seal replacement so that operators can easily deal with seeped fluid on a scheduled drive-by. All Titans also have packing failure blowout protection with high-level fluid shutdown capabilities for heavy leaks via a Class 1, Division 1 explosion-proof electronic ESD switch that works in series with a (Presco) line switch. An optional cellular service can also be added to alert the operator/battery if there is a problem at the wellsite. According to Mathews, more than 9,000 Titans are in service throughout North America.
Adoil also now offers their Heavy Oil Super Steam (SS) Unit – a safe, economical, easy-to-use environmental wellhead containment unit and blow-out suppression top cap. Specifically designed for heavy oil producers, the SS is particularly suitable for use in heavy oil wells using rod pumps, for CSS, SAGD, and cold lift recovery. According to Marty Mathews, Adoil's founder and president, surface casing and cement seal corrosion can now be eliminated on steamed heavy oil wells via the SS unit's fluid capture design.
These units help companies reduce packing failure blow-outs as well as dangerous hot (wind-blown) oil contaminates at pad sites, which eliminates surrounding ground staining and ecological harm. Plus, they help protect expensive onsite instrumentation and the SS units' emphasis on greater operator involvement has led to faster response times – resulting in cleaner pad sites and lower field operating costs. The Heavy Oil Super Steam Unit can be installed in under two minutes, without tools, is easy to clean, and is built lightweight, strong and corrosion-resistant.
Adoil Inc.