Beach sand screeners ideal for spill clean-up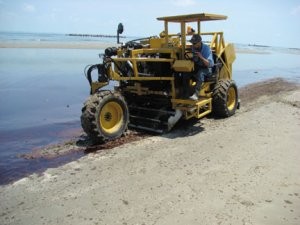 Cherrington Inc. is the North Dakota-based manufacturer of a mobile oscillating sifting method of beach sand screening, and has developed an extremely effective and thorough method of tar ball and slab oil removal for beaches. According to the company, their equipment was used to great success in the cleanup following the Deepwater Horizon accident.
Cherrington offers both self-propelled and tractor pulled beach cleaners. Both types have the same unique sifting method and allow for sand screening or the complete removal of the badly contaminated sand. Units have infinite hydraulically-controlled depth setting ability to precisely set the depth of screening, which allows for work on just the top half-inch to three-quarter-inch of a beach to minimize any negative impact. Self-propelled models are of a three wheel design and include high flotation tires and zero-turn capability. According to Cherrington, this design and method is far more effective than the alternative use of heavy construction equipment for the remediation of sand. Cherrington Inc.