Portable diagnostic tool for control valves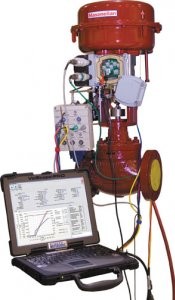 Dresser Masoneilan recently announced the launch of their next generation ValScope-PRO, a diagnostic tool for control valves with both conventional and digital positioners. The ValScope-PRO helps customers identify problems by providing a scientific evaluation of valves in operation. The tool is portable, enabling users to troubleshoot valves – in-line and in harsh environments – to determine which valves need to be removed. A graphic interface allows users to view the valve as it is being tested and provides real-time analysis. The ValScope-PRO is compatible with analog, Fieldbus and HART communication protocols.
"Many customers would like to know whether a valve needs to be pulled or if it can be repaired in-line, and they don't want to have to wait for test results to be reviewed and analyzed by an outside source," said Gary Ostrowski, director of product management aftermarket for the Flow Technologies Segment of Dresser Inc.
"This new generation of ValScope-PRO is one of the easiest and most powerful test systems on the market today, providing real-time analysis that helps customers to save time and money by allowing them to plan ahead for repairs and shut downs."
ValScope-PRO is designed to be user-friendly, has the ability to test valves and positioners in-line, and features advanced diagnostic capabilities.
Dresser Inc.