RFID tags introduced for oil and gas industry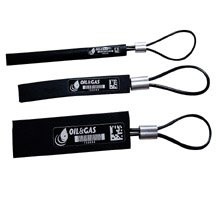 William Frick & Company recently introduced three innovative Radio Frequency Identification (RFID) tags that have the potential to significantly improve the efficiency of oil and gas producers to identify their valuable assets in the field.
The three new RFID tags – weldable WoW, FRAC and Sling/Hang – were developed by Technologies ROI (TROI) and will be exclusively distributed in North America by William Frick & Company. All three tags are highly resistant to impact, pressure and water, and are readable at long range. Each tag has an innovative attachment mechanism – a nylon-coated steel loop – which provides the ability to be welded, so these units can be securely fastened to any asset. Additionally, each tag can be laser-etched, providing a layer of redundancy that makes the information easy to read with just the naked eye.
"For the first time, oil and gas companies and others in heavy industry have RFID tags tough enough to withstand the rigours of extremely harsh operating conditions," said Evie Bennett, vice president of William Frick & Company. "By tagging pipelines, cables, chains and other important assets, companies can become more efficient at managing inventory in the field and knowing when equipment needs to be serviced or replaced."
According to William Frick, in partnership with the Oil and Gas RFID Solution Group Consortium, the top five oil and gas companies recently field-tested the three new tags over a period of 24 months in a variety of upstream, midstream and downstream applications. Because of the tags' superior performance, the consortium named them the Oil & Gas RFID Tags of Choice for harsh-environment operations.
"We found these tags survived even the most challenging environments, such as down-hole, sub-sea and high-chemical exposures and treatments," said Sam Falsafi, co-founder of the Oil and Gas RFID Solution Group Consortium. "They met the needs and standards of the oil and gas industry in real-world settings, thereby earning credibility for RFID applications beyond just supply chain management."
William Frick & Company