Boart Longyear releases new rotary head family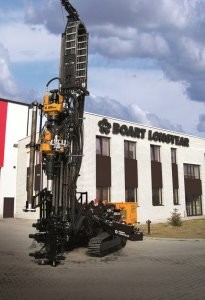 In 2010, Boart Longyear Ltd, the integrated drilling services and products provider, released the new XRH family of rotary heads, composed of 12 base models with various motor configurations, and designed for rotary drilling applications, including jet grouting and reverse circulation.
Featuring patent-pending electronic valve control technology, the XRH rotary heads can run two or three motors and seamlessly switch from series to parallel operation, eliminating low-torque startups after making and breaking joints and manual shifting of gears.
"With more than 100 years of experience in rotary design and development, the XRH heads are some of the strongest and most flexible on the market today," said Ron Hankins, product manager for construction equipment. "We've designed these construction heads to be easily integrated into a wide range of existing Boart Longyear and competitive rigs, making this new technology accessible to virtually any contractor."
In addition to easy installation, the XRH rotary heads are also extremely powerful. Capable of delivering up to 27000 Nm (19915 ft-lb) of torque or a maximum rotation speed of 188 rpm, the XRH family is ideal for a wide range of applications. They are engineered to safely handle up to 20000 kg (44090 lb) of pullback force, providing optimum performance in auger, down-hole hammer, reverse circulation, jet grouting, overburden and rotary drilling.
The heads feature hollow spindles with an inner diameter of 120 mm, which is the largest in its class— excellent for passing large jet grouting rods, RC drilling or double-head drilling where a drifter passes a large inner string through the XRH rotary head.
These XRH heads are designed using premium components like Eaton Geroler motors, which provide greater efficiency and power than standard axial and piston-type motors. In addition to the motors, the XRH utilizes high-strength axial bearings designed to handle the increased stress experienced by drilling with higher power and speed.
Plus, an auto oiler supplies constant lubrication to bearings independent of rotary head rotation, extending maintenance intervals and eliminating the need for daily maintenance. Premium bearings, precision ground gears and synthetic seals, are also used to provide longer and more reliable head life.