Oil, debris skimming boats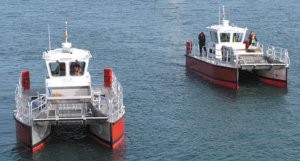 Elastec/American Marine (USA) has delivered two custom oil and debris skimming boats manufactured in Europe to a major client in Asia. The 10 m (32-foot) craft is capable of collecting, storing and transporting recovered oil and debris.

The boats were built after many months of consultation and are a development of an early skimming pontoon concept. The thoroughly updated design encompasses a number of important operational features that allow these boats to collect and transport floating garbage as well as skim and collect floating oil, should an accident happen.

Trash is collected using a powerful collection scoop operating between the bows. This same scoop serves a vital function when the boat is in oil recovery mode, allowing trash to be screened prior to oil recovery. Oily debris presents a big issue in most oil spills by clogging skimmers and pumps. A pair of unique dynamic oil recovery chambers is incorporated in the hulls. As the vessel moves forward, oil is collected in these chambers where it is selectively skimmed using an Elastec drum skimmer or a self-adjusting weir skimmer. The vessel provides hydraulic power to operate the trash scoop, skimmers and pumps. Oil is stored onboard in special tanks.

The lightweight aluminum hulls are powered by twin water jet propulsion providing for a stable maneuverable and shallow draft platform.