Software tool for pipeline design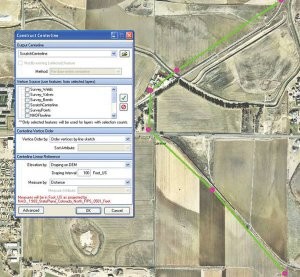 Centerline Design Toolkit is a robust and easy-to-implement Esri ArcMap extension that consists of a number of individual tools for viewing and creating linear data. These tools simplify common tasks that can be difficult to perform with complex geo-processing work flows, such as connecting GPS points to create a line, assigning 2D or 3D measures, and generating events with stationing. All of these tasks are necessary and now achievable in less time with this toolkit. This product provides a robust set of tools for performing complicated operations.

One of the main features within this toolkit is the Centerline Constructor. The tool can generate the measure of a polyline from a variety of vertices sources, including survey features, ILI inspection, and existing centerline data. Vertices from existing ArcGIS feature layers can also be used. Centerline Constructor also allows users to measure by distance or attribute. This tool intersects the centerline layer with points, lines, and polygons to show the in and out stationing.