New Beamex MCS200 calibration workstation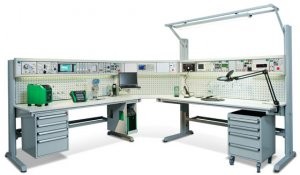 Beamex introduces a new Modular Calibration System, MCS200. It is a modular test and calibration system for workshops and laboratories. MCS200 offers efficient and ergonomic possibilities for the maintenance of process instruments. The system can be tailor-made to fit your requirements. Beamex will assist you in planning, specifying and installing the ideal workshop solution for your facility.

MCS200 Workstation offers a solution for a large variety of applications, such as calibration of pressure, temperature and electrical signals; electrical tests and measurements; maintenance & testing of single and three-phase motors and other electric devices; soldering and desoldering, educational use, etc.
The advanced design of the MCS200 table frame and module rack offers many advantages such as easier installation, height adjustable tabletop and module rack, dual panel possibility, 2 benches – 3 legs solution, LED lighting and movable accessories under the tabletop.

The module rack hosts a great variety of modules including calibration modules, AC & DC power supplies, multimeters, function generators, oscilloscopes, etc. This makes the MCS200 Workstation ideal for both instrument and electrical workshops, as well as for use in laboratories.

Features include:
ESD protected workstation with calibration modules for pressure, temperature, electrical signals and frequency; variable AC and DC supplies; measuring instruments; soldering and desoldering equipment; and accessories; Support for HART, Foundation Fieldbus H1 and Profibus PA; Paperless calibration – seamless integration with Beamex CMX Calibration Software; Fully automated pressure calibration − communicates with Beamex POC6 Automatic Pressure Controller; Fully automated temperature calibration − communicates with Beamex FB/MB Temperature Blocks.

New features include:
Advanced construction, more flexibility • Newly designed equipment panel; Standard sizes: 1.8 m and 1.5 m; Dual panel possibility; Grouping of benches with common leg; Height adjustable tabletop and module rack; Durable LED lighting; New instrument modules; Flexible movement of accessories under tabletop; Pressure, electrical and data connections placed under panel for easier access.