OceanEye oil spill aerial surveillance system reduces emergency response operation costs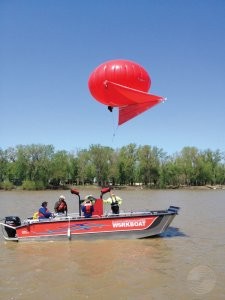 Elastec/American Marine is always on the hunt for new technologies to improve oil spill response operations. In the search for an alternative to traditional aerial surveillance, Donnie Wilson, CEO of Elastec/American Marine, discovered OceanEye in Norway.
Technologically intelligent, yet simple to deploy and operate, the innovative OceanEye oil spill aerial surveillance system, developed by Maritime Robotics of Norway, drastically reduces emergency response operation costs, as well as health, safety and environmental (HSE) risks. OceanEye provides the technologies to locate the spill, assess its dimensions, monitor its movement and communicate information instantly to other responders for water or land-based spills.
Deployment of the OceanEye is less expensive than employing aircraft, and the system allows operators to search for and locate oil spills in sunlight, at night or when fog intrudes. It has a visibility range of about four nautical miles at an altitude of 150 metres, which is within FAA regulations. (The balloon can be flown at an elevation of 150 metres without FAA approval or higher, with FAA approval, in U.S. waters.)
OceanEye features a high-visibility, vibrant red balloon, made of robust urethane and ripstop nylon sailcloth to withstand all climates. The entire system can be launched or retrieved by just two people, and operated by one. Powered by high efficiency lithium batteries, OceanEye can also utilize ground power where available.
The balloon houses a high-performance triple sensor package with a high resolution camera producing day and night (EO/IR) photo and video imaging, as well as an Automatic Identification System (AIS) receiver.
The rugged touch-screen, hand-held viewer tablet is pre-loaded with proprietary OverView software, longitude and latitude coordinate software, as well as AIS overlay to locate and track other vessels.
The base unit has a footprint of approximately four feet by three feet and a height of five feet (1.20 x 0.80 x 1.59 metres) and serves as a docking cradle, helium filling station and tool storage cabinet. It fits easily on the deck of an oil spill response vessel, fishing boat or in the bed of a pickup truck for land-based operations. The base also contains the electric winch responsible for deployment, recovery and control of the balloon.