Fluid mixing solutions and technology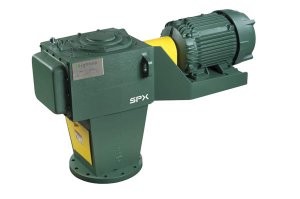 Through its Lightnin and Plenty brands, SPX is the ideal partner to serve the oil and petrochemical industries with advanced fluid mixing solutions and technology. Product designs are focused on durability and reliability and SPX mixers have proven track records in installations around the world in maximizing process performance and reducing operating costs.

The SPX brand of Plenty mixers has served the oil industry with side entry mixers that offer easily maintained, reliable, efficient and economical solutions. They are ideal for applications such as lifting bottom sludge and water (BS&W) in order to maintain a relatively clean tank floor and help prevent build up or blockage around the tank outlet.

In the BS&W process, swivel angle mixers are recommended to ensure that the flow is directed to sweep all areas of the tank and Plenty models are available with either manual or Automatic Swivel Actuator operation.
A full range of fixed angle mixers are also available for efficient operation in clean applications, such as refined oil handling, where blending, homogenization or heat transfer is required.

Plenty mixers utilize advanced impeller designs, which provide high pumping and thrust characteristics with minimum power draw. The impellers are of a single piece cast construction, which does not cause cavitation and ensures lasting performance. All parts of the mixers including seals, bearings, drives and shafts are designed to offer efficient, reliable service and are particularly designed for use with oils and petrochemicals.
The SPX Lightnin brand is known for its robust, long-lasting mixers, agitators, aerators and flocculators for fluid process systems.