Next generation safety wrench system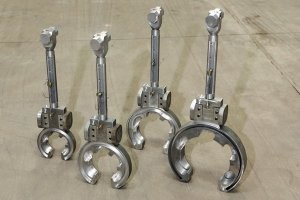 The Superior Safety Wrench System (SSWS) is a next generation tool to eliminate the use of sledge hammers in the make up and break out of high pressure, temporary flowline connections.

Concentric, a Superior Energy Services company, designed the SSWS for land and offshore operations. The tool is composed of two main parts: a heavy-duty aluminum, wrench-style head and a quick-latch, adjustable torque-assist device. Extensive, external field tests were conducted on 2 to 4-inch unions, and the SSWS passed all tests. The wrench-head adjusts from 1 to 4 inches, creating an even distribution of impact load on all three union lugs. The wrench head adapts to all disfigured hammer unions. The design of the handle provides a quick-latch feature extending 14 to 22 inches in length. Its even distribution of torque allows the union to contact the seal evenly without compressing or compromising the seal.

The SSWS includes significant safety features and provides a cost-efficient alternative to similar tools. Its design eliminates the risks and dangers of sledgehammer use, such as injuries from swinging sledgehammers with poor form, holding a target while it is hammered, releasing sledgehammers midswing and fragmenting because of a worn out sledgehammer or target. Because of the efficiency of the system, the wrench can also reduce rig-up and testing time. With internal testing by means of 1 to 4 inches, 1502 union components torqued with the SSWS, the tool withstood a cold working pressure for qualification.

"Superior has an ongoing commitment to health, safety, environment and quality, which is designed into all products within our brands," said David Wilson, president, Concentric Pipe and Tool Rentals. "Our goal is to eliminate on-the-job injuries associated with projects that utilize tools like the Superior Safety Wrench System, because nothing is more valuable than the safety of our customers and our employees."

The SSWS is currently available to rent as a manual tool. A pneumatic version will be available later in 2014. Customization is also available.