Natural Gas Generators Used To Power Oilfield Equipment Deliver Benefits To Operators And The Environment
by Andrew Topf, Associate Editor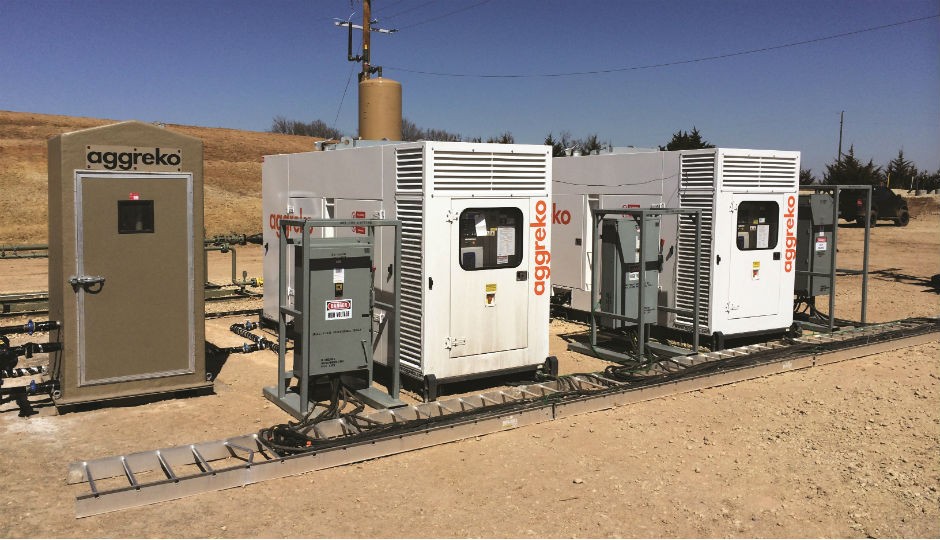 The surge in natural gas production over the last several years has been attributed largely to advances in extraction technologies – namely, horizontal directional drilling and hydraulic fracturing.
With more and more gas being produced, prices have fallen, and while that hasn't been good news for producers' bottom lines, it has opened up opportunities for savings at the wellhead. Operators looking at alternatives to diesel fuel for running generators, compressors, pumps, lights, and other oilfield equipment, are finding natural gas to be an attractive option.
"The biggest benefit for operators to use natural gas over diesel is cost savings, followed closely by environmentally favourable impact," said David Dickert, regional oil and gas manager for Aggreko North America, which offers a selection of natural gas generators to complement its diesel-fuelled units, and is also a leading supplier of rental power.
Dickert said over the long-term, natural gas generators have been shown tocost 40 to 45 percent less than their dieselcounterparts, despite their initially high upfront capital expense.
"This is the result of the on-site availability of natural gas that can be harnessed from the wellhead instead of being transported in."
Todd Howe, global generator products manager for Doosan Portable Power, agreed that the remoteness of most wellhead locations combined with the relatively high cost of diesel fuel – around $4 a gallon – makes the use of diesel to run portable power an expensive proposition. "That's definitely led to an oil producer's interest in natural gas as a fuel source."
Howe also noted that changes to diesel emissions regulations – from Tier 3 to Tier 4 Interim and now Tier 4 Final – have accelerated the move from diesel to natural gas generators, because the new regs have made diesel generators more expensive to build.
"An engine in a generator is normally 40 percent of its total component cost, so when that engine component cost goes up 80, 90, 100 percent in price to meet the technological requirements, the overall price of the generator increases significantly, " he said. "It certainly makes a gas machine a lot closer to price parity than it would've been say five years ago when the world was still using Tier 2 and Tier 3 diesel engines.
Easing emissions
Environmental considerations are the third reason for the shift from diesel to natural gas. In the oil patch, diesel emissions are a constant irritant; natural gas generators offer a cleaner alternative.
"They reduce the operator's environmental impact as natural gas has been estimated to produce 85 percent fewer emissions than diesel," said Dickert, adding that natural gas generators also reduce flaring. Gases that would previously have been flared off, such as ethane, butane and methane, can now be captured and used as fuel, rather than escaping into the environment.
As far as oilfield applications, Howe said most of Doosan's natural gas generators are on the production versus exploration side of the business, with the most common use being to run a submersible pump or pumpjack. "In many applications there's not grid power near, so the only way to power the motors that make those pumps work is to bring generators out to those sites," he said.
So how is well gas harnessed by the generator? The well gas is separated at the production site and then piped to the generator, before a gas/liquid separator conditions the gas as it enters the engine.
"The biggest benefit for operators to use natural gas over diesel is cost savings, followed closely by environmentally favourable impact." - David Dickert
According to Howe, it's important to analyze the gas at the wellhead before hooking up the generator; the composition of the fuel will determine the generator's power rating.
"Some fuels cause reduction in power because they don't provide enough energy content, or because they cause a detonation problem inside the engine generator," he said.
A scrubbing system filters out solid impurities and water – byproducts of the drilling process.
Howe said in Doosan's models, the scrubbing system is built-in, compared to others where it is an add-on. In Aggreko's case, the company's gas-cleaning technology is able to process the gas to remove water and separate out higher- BTU components, said Dickert.
Propane is often used as a backup fuel, due to the intermittency of well gas, and most natural gas generators have the ability to switch fuels during operation.
"You're using untreated fuel coming out of the ground that needs to be burned in the generator. So if there's ever any problem with the well and it stops producing, or there's a problem with the gas coming out of the ground, the propane is there as a backup," said Howe. Similarly, to address the issue of intermittent gas, Aggreko uses dual-fuel engines that use a combination of natural gas and propane and are able to switch from one type of fuel to the other, without interruption in power.
Telemetry an important aspect
Telemetry is another important aspect of natural gas generators, given the remote nature of most wellhead sites. Onboard diagnostics let the producer know when the machine is encountering a problem, without the need for an operator to be physically onsite.
Houston-based Aggreko differentiates itself from competitors by the modular design of its natural gas generators, which are built into 20-foot steel containers and can be scaled up or down to meet customer needs.
The company's rental option affords operators a number of benefits including Aggreko's Remote Monitoring (ARM) service, which transmits data from equipment in real-time, allowing Aggreko to anticipate, diagnose and solve problems faster and with greater accuracy.
Howe said that Doosan places a high gas generator lines, considering that the machines typically log 8,000 hours a year, and operators expect them to have a lifespan of between 25,000 and 40,000 hours.
"These products are basically diesel designs with gas engines in them. They're designed for autonomy and they're designed for abuse," said Howe. "It's the typical Timex statement. They take a licking and keep on ticking."
Asked whether natural gas generators could eventually replace diesel units, Howe predicted that the two fuels will probably continue to co-exist.
"There's certain oilfield applications where the gas isn't going to be plentiful. Or it's not going to be the right composition to replace the diesel," he said.
"I think in oilfield it'll continue to displace diesel where it's possible to have 60-65 percent gas, 35-40 percent diesel, but diesel is still going to be in the mix."
Howe also noted that with more on- and off-highway trucks, buses and other equipment being switched over from diesel to natural gas, the demand for gas could increase to the point where it balances out the current oversupply situation.
If that happens, the resulting price increase would again see operators evaluating the relative merits of gaseous versus liquid fuels when it comes to their portable power options.
New dual-fuel line from Aggreko
Aggreko's new line of portable dual-fuel generators (pictured on page 8) features a 170-kW Cummins-built unit designed to run on both natural gas and liquid propane gas (LPG), solving the challenges of intermittent well gas.
According to Aggreko, they have the latest emissions-control technology, and can switch from one fuel to another without interrupting the power supply, ensuring maximum uptime.