Heat And Pressure Drive New Interior Coating Designs
New methods of production have required suppliers to solve new problems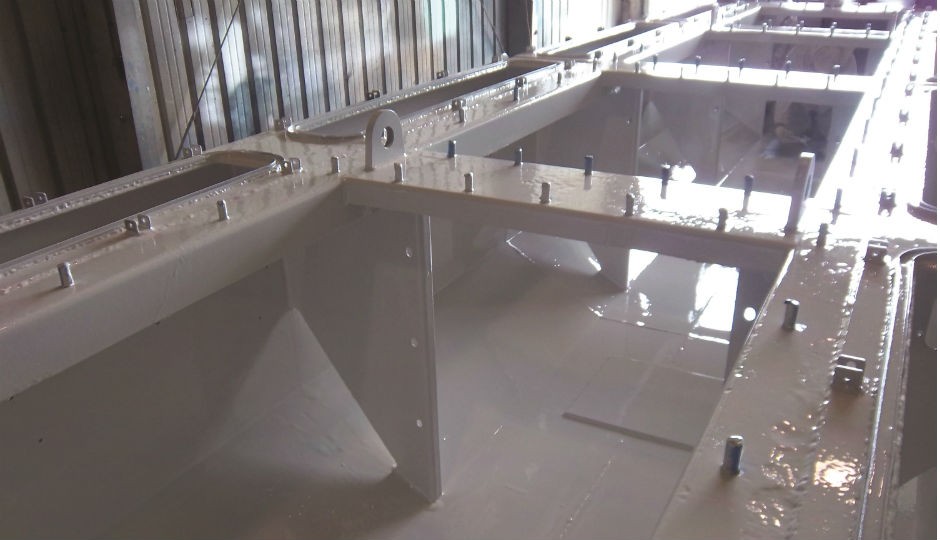 The growth of advanced production methods in the oil industry has meant a need for new approaches to many methods used for years. Steam-assisted extraction, high-pressure water injection, and other techniques being developed all the time are encouraging companies to find innovative ways to meet those new challenges.
One sector that has found itself on the receiving end of those changes is the coating industry. Virtually everything used for storage or movement of petroleum products is coated in some way to ensure safety and protection from corrosion and damage. With innovations on the production side have come changing needs and parameters for the coatings that oil and other products are exposed to in the production process.
"The oil industry has changed in the last ten to 15 years – production is going deeper, the commodity coming out of Heat and pressure drive new interior coating designs New methods of production have required suppliers to solve new problems the ground is under greater pressure and is hotter, and sometimes both," said Ron Knecht, regional market manager, oil & gas for Sherwin-Williams Protective & Marine Coatings.
Previous coatings used in tanks and pipes, as well as other oilfield operations, were a thin film lining typically placed with multiple coats, Knecht said. Most of the fields in production up to 10 years or so ago were well served by that style of coating, but they had disadvantages when dealing with heat and pressure. In addition, they were slow-curing, resulting in a week's wait before the coated items could be put into service.
New industry demands
According to Knecht, Sherwin-Williams started developing new options to face some of the challenges produced by new oil extraction methods and oil sands operations after enquiries from industry partners.
"Companies we partner with identified the new production coming online, and their materials engineering people are always looking for new material for future use," he said. "They started to identify the fields they would be producing in coming years, saw the heat and pressure challenges, and asked us to do some product development."
Those fields were deeper than previously drilled, generating higher pressures and temperatures in the product coming out of the well and into tanks. The growth of oil sands development, with steam injection increasing both temperature and pressure out of the well and processing raising temperatures even more, pushed Sherwin-Williams to find new coating materials to meet both needs.
The result was Nova-Plate 325, a lining that uses advanced novolac technology to line steel tank and vessel interiors, providing protection from aggressive chemicals at high temperatures and pressures.
Nova-Plate 325 is made to be used in both offshore and onshore applications, handling situations that would be impossible for previous systems. Knecht said the key targets for prototype testing of the new material were significant improvements over older lining options.
"We targeted up to 300 degrees F in all grades of crude oil, and up to 2,000 pounds per square inch of pressure. We built several prototypes, sent them into third-party testing, and found that our best performing product met those with hydrocarbons and H2S," Knecht said. "It was an extremely aggressive test, and the Nova-Plate 325 passed it well."
Those provided a baseline for the product. The next test was even more aggressive.
"After that, we went ahead and validated the performance of the Nova-Plate 325 in 300-degree-F crude oil for a year, to confirm there were no anomalies and it would perform at those levels long-term," Knecht said. "We also tested it in various other caustic fluids, and found it was highly resistant to those as well."
Sherwin-Williams initially targeted the product towards use in steel tanks, but it has proven to be useful in a number of similar roles for oilfield operations, Knecht said.
"We are starting to sell Nova-Plate 325 as an internal pipe lining; it's also used in pressure vessels quite regularly, and in heater-treaters," he noted. Heater-treaters are used to heat water and oil as the mixed fluid rises from the well for easier separation; this use requires very high temperatures for success.
Another growing use came from a side benefit discovered during testing, Knecht added.
"The way this product came together gave it outstanding resistance to acids, including 37 percent hydrochloric acid," he said. "That's really unheard of for a product of this type."
That resistance has led to its use for frac fluid tanks, which can see spikes of concentrated acids and other chemicals, Knecht noted.
"The feedback we're getting is very good... It cures very fast and is performing extremely well under extreme conditions." - Ron Knecht
With rapid growth of production across the Canadian market continuing, the need to bring new tanks, lines and other items into service quickly is important. Application of linings must be done and ready to go quickly. Nova-Plate 325, along with having low VOCs, is a quick-curing material compared to previous linings.
"Some things used previously for high-pressure, high-temperature service were heat-cured linings. Heat-curing is almost impossible to do on-site. It's a very expensive process and takes a lot of time," Knecht said. "This product has very fast ambient curing and is generally available for service after about 24 hours.
It's a significant benefit to both applicator and owner, getting tanks back into service within a day or so."
Nova-Plate 325 came on the market commercially earlier this year, but had been in field trials for a year prior to that. Knecht said the response has been strong.
"The owners and applicators we had field trials with were asking for more of the product even before it was commercialized," Knecht said. "The feedback we're getting is very good. The final appearance of the liner is outstanding – it looks like a ceramic tile, glossy, hard and very slick. It cures very fast and is performing extremely well under extreme conditions."
Company info
8500 Leslie St Suite 220
Thornhill, ON
CA, L3T 7M8

Read more