Skimming Of Fracking Wastewater Cuts Hydrocarbon Contamination
Tube-based oil skimmer systems pull oil from recovered water and can increase profits for operators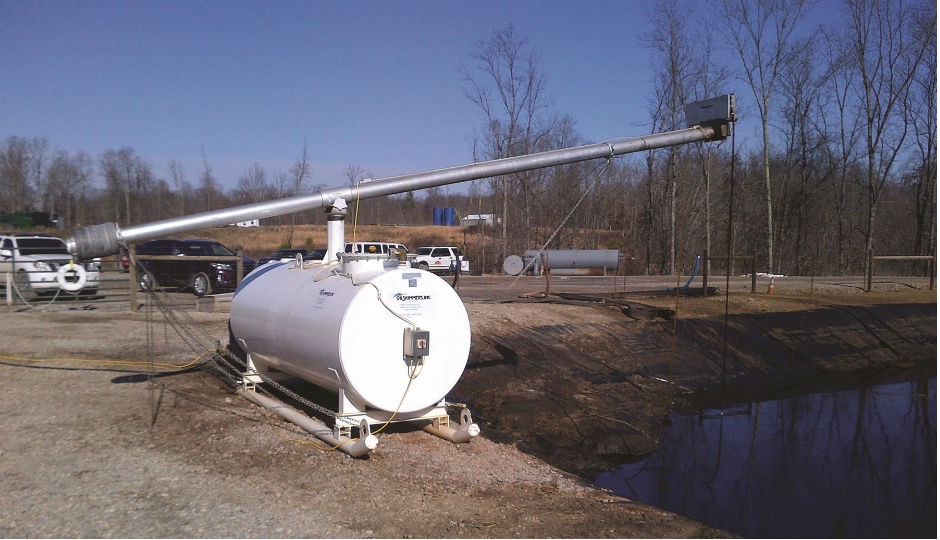 The growth of hydraulic fracturing operations across North America is undeniable. With a vast amount of natural gas captured in giant shale plays beneath the U.S. and Canada, fracturing has become a byword in the industry.
At its heart, hydraulic fracturing is a water-based technique. Massive quantities of water from various sources are being pushed into wells to open up formations, usually in combination with various additives. That water doesn't stay down the hole, though – it's brought back to the surface, where it must then be treated before either reuse or disposal.
Treatment of flowback water tends to mostly focus on reducing the amount of total dissolved solids and other contaminants, either through on-site filtration systems or simply by blending with fresh water to bring measurements into the correct range. When hydrocarbons are part of the contaminants, however, treatment becomes more of a challenge.
"Companies take truckloads of water from drill sites and process it; they have to handle whatever is coming up naturally, and different shale plays have different returns," said Guy Flynn, director of marketing for Oil Skimmers, Inc. "Some don't have any oil at all, and others will. A lot of time there's oil present even after on-site treatment."
Flynn said Oil Skimmers recently researched water treatment and disposal to produce a white paper on the current situation.
"We decided to research this a bit because we had some people in the industry using our skimmers in various parts of the process. We saw that there could be more need for it, because with as much fracturing going on and water being an issue, there's no standard right now," he said. "Everyone is kind of doing their own thing."
Oil as a byproduct
Oil and metals are the most likely byproducts to be extracted along with frac flowback water at drill sites. Oil-containing water is often found at certain depths within a hydrocarbon-bearing formation, depending on the geologic composition of the structure.
The amount of dispersed oil in flowback water varies based on the well, the white paper notes. One report indicates that fractured wells in the southern part of Ohio contain oil hydrocarbons far more frequently than those in the northern half of the state, for example.
No matter the level of contamination, treatment is still required, and various techniques are being used to clean up water that comes up from these wells, Flynn noted.
"As soon as the pressure is released from the well and the flowback water starts, these comapnies have something on site to contain it, treat it and process it. To what extent they treat it depends on what's coming back with it," he said. "There are a lot of different on-site processes – often they're huge rigs, tanks and a variety of things on site to treat the water."
Oil Skimmers' white paper outlines one process used by an American operator. In their system, flowback and produced water is run through separator units of various kinds to split off the oil and gas before the water is treated. A gravity separator or "heater treater" unit is used to separate more oil from the wastewater, which is then stored for disposal or recycling.
""A couple of the applications that our units are in involve operations getting frac water from drill sites... Before the water is injected back into the earth through disposal wells, they're removing that oil and making a profit." - Guy Flynn
Recovery helps maximize profits
In some cases, there are recovery methods that can be used to recover more oil and hydrocarbons along the way. Those can then be sold later to maximize profit.
"A couple of the applications that our units are in, involve operations getting frac water from drill sites, often at injection disposal wells, and a lot of the water has stuff still in it," Flynn said. "Before the water is injected back into the earth through disposal wells, they're removing that oil and making a profit."
Oil Skimmers has been producing equipment that removes oil from the surface of water for 45 years, Flynn noted. Its systems provide an option for disposal companies and others to help cut the hydrocarbon content of flowback and produced water.
The closed-loop floating tube-based skimming system was invented by company founder Eugene L. Brill in 1969 and has evolved over time for use in multiple industries.
"We make a tube that we put out over the surface of the water. Anything floating on the surface will stick to the outside of the collector tube," Flynn said. "Then the tube is drawn up into the machine, where it's scraped off and gravity drains it down into a collection vessel. It's a continuous process – the tube goes back out the other side and consistently grabs more oil."
The system was originally used in the steel industry to manage wastewater, and has also been used for other industrial processes where oils may become introduced into water. In the case of the oil and gas industry, recovery and sale of those products has become common.
"The producers recover whatever they can, but whatever is left over is still enough for disposal companies to generate some revenue," Flynn said. "They turn around and sell that product – there's a market for it that helps them increase profits."
As there are many ways in which companies approach wastewater treatment and hydrocarbon removal, Oil Skimmers' system is capable of various methods of deployment, Flynn noted.
"Every skimmer we move out the door is unique, as far as the application," he said. "Every application is different and we modify it as needed. But wherever in the process it makes the most sense to grab that oil, that's where the skimmers are installed. We don't really have to make people change the way they do things – we can fit the skimmer into the current process and make their oil recovery procedure more efficient."
by Lee Toop, Editor