New Facility Leads Alberta in Responsible Resource Development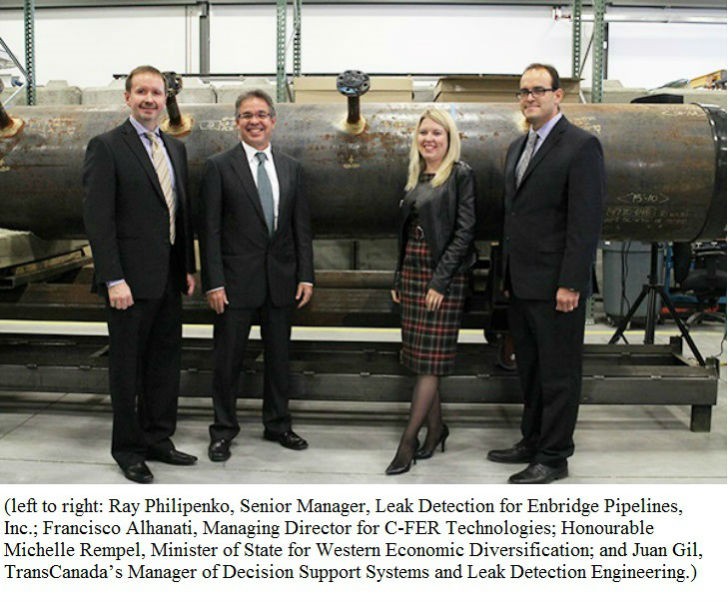 C-FER Technologies is leasing a new $14 million research and testing facility to further enhance Alberta's leadership in advancing technologies that increase safety and improve efficiency in support of responsible resource development.
C-FER's new facility features:
A full-scale underground leak simulator for liquid pipelines
One of the world's largest deep water pressure vessel
A first of its kind indoor tailings testing facility
An ultra-high load testing system for pipelines
The 40,000 square foot building expands and enhances C-FER's capabilities to qualify and de-risk technologies before they are implemented in the field. The Honourable Michelle Rempel, Minister of State for Western Economic Diversification, officially opened the facility. The new facility is located at 3712 Roper Road in Edmonton.
"Our Government recognizes the importance of innovation and quickly developing solutions that meet the world's changing market requirements," says Minister Rempel. "Today's grand opening is a reflection of our commitment to strengthen the energy industry so we can continue to responsibly develop our resources while creating jobs and economic growth."
"C-FER was founded in 1984, as a spin-off of the University of Alberta, with seed funding from the Alberta Provincial Government and the Federal Government, to meet the engineering challenges of developing energy resources in the Arctic," says C-FER Managing Director Francisco Alhanati. "Over 30 years, the company has evolved to work with energy industry clients globally. We find appropriate solutions for the challenges operators face when developing resources in a variety of harsh environments, or under more stringent regulations."
Now at two Edmonton facilities, C-FER offers world-class expertise and unique testing systems that can subject full-scale equipment to the most severe operating environments. C-FER's Exploration and Production Division works in the areas of drilling and completions, and production operations. The Pipeline and Structures Division works in the areas of pipeline design and construction, and pipeline integrity management.
The new facility supports C-FER's ability to bring industry, government and regulators together to solve challenging problems.
"C-FER has been instrumental in bringing together the pipeline industry and government to facilitate discussions and research work in the critical area of leak detection," says Ray Philipenko, Senior Manager, Leak Detection for Enbridge Pipelines, Inc. "Through our joint industry partnership with C-FER and funding participants, C-FER has consistently demonstrated its value with deep technical expertise and effective project management capability."
"Making pipelines even safer and more reliable is an industry-wide goal, and C-FER is a world-class facility that has enabled companies to come together to do important research to assess the latest external leak detection technologies that promise to help achieve our mutual goal of zero safety incidents," says Juan Gil, TransCanada's Manager of Decision Support Systems and Leak Detection Engineering. "The joint industry partnership created to support C-FER's External Leak Detection Experimental Research (ELDER) facility is an excellent model for how industry and government can collaborate effectively on R&D projects."
C-FER Technologies' $18 million in annual revenue is earned through contracts with companies around the world. Approximately half of the revenue is obtained by working with pipeline operators to improve their pipeline performance. In some cases, matching funding is provided through Provincial and Federal funding programs. Operating as a not-for-profit corporation, C-FER invests in facilities and equipment to provide leading edge support to the energy industry.