Automated Removal of Black Powder Extends Pipeline Life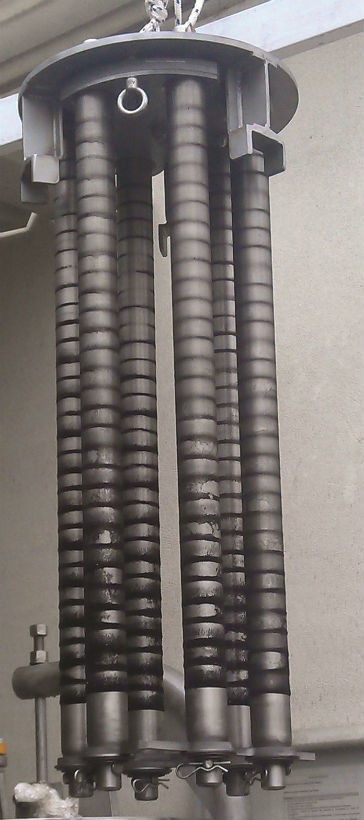 Black Powder (BP) is an abrasive contaminant (iron oxides and sulphides) present in all gas and hydrocarbon fluid transmission lines. BP is primarily the result of moisture which causes bacterial and chemical corrosion of the carbon steel walls within pipelines and containment tanks.
BP acts like sandpaper, wearing the pipe wall. This results in more black powder particles ranging from 100+ microns to sub-micron in size. The majority of BP is under a micron.
This contaminant causes premature wear of the pipeline wall, damaging meters, turbines, compressors, pumps and their components.
This process does not stop at the gas plant or refinery but continues as it is transported down the transmission line through to the end user.
The solution to mitigate the damage is to remove the BP in as many locations as possible along the transmission lines before compression and pumping stations. This will protect meters, valves, pumps, compression equipment components and supply a cleaner product.
Gas line challenges
Traditionally the solution has been to employ separators, cyclones and depth media filter systems. The cyclones are only efficient down to 8 microns. Depth media filtration causes serious flow restriction, requiring increased horsepower to flow the gas and are only efficient down to 3 microns. Maintenance and consumable costs are very high to operate a large-depth media filter system. To date traditional filtration has not proven to be effective in removing BP from a gas stream.
Traditional depth media filtration for gas applications advertises an efficiency rating of 99.99 percent down to three microns, but this is not realized in actual application. Black powder is generally under 1 micron in size allowing an efficiency of less than 60 percent. These depth media filters become clogged when exposed to large volumes of BP. When saturated and removed from service they become a hazardous waste, with a high cost of disposal.
For wet gas, traditional practice is to employ a cyclone and a tank separator followed by depth media filtration, which creates flow restriction. New designs for wet gas systems employ a cyclone before the depth media filters. This may cause the cyclone to lose efficiency, allowing the entrained liquids to remain in the gas. This may increase the amount of liquid trapped in the depth media element, causing it to swell and restrict flow.
Hydrocarbon fluid issues
Like gas transmission lines, BP formed from corrosion and erosion of the pipeline is present in hydrocarbon fluid lines. Traditionally, large pore mesh screens in basket and cone strainers are used in removing contamination from hydrocarbon fluids as flow cannot be restricted. This allows BP particles to contaminate the crude and refined products.This also causes damage to pump seals and meters and increases the cost of the refining processes.
Another source of BP, in large pieces, (referred to as slag) is the result of corrosion of the storage and transport reservoirs. As the oil levels fluctuate in the reservoir, condensation forms on the carbon steel walls, resulting in corrosion.This creates large pieces of slag which drop into the product and are transferred down the line. Traditional screens are meant to trap these large particles which can be more than 10 inches in size. These pieces break up and flow through the mesh upon contact.
New approaches to black powder
Black Powder Solutions has designed a new technology that is capable of removing BP (both ferrous and nonferrous) to sub-micron levels without flow restriction by employing powerful patented magnetic separation technology. These separators have a long operational life, have very little consumables and have three levels of service from manual cleaning to fully automated systems designed for employment on all sizes of hydrocarbon fluid or gas pipelines. When employed before power plants, LNG plants, refineries and gas plants, the operational costs will be reduced dramatically. This will improve the quality of finished products for the end user.
The fully-automated BPS system signals a change in differential pressure across the vessel (1-3 psi) indicating to the operator the need for cleaning. With the press of a button the scrapers are engaged and pulled down, the magnetic separator rod and the trapped contaminants are flushed into the base of the vessel and into a reservoir for removal.
The system is then reinstated and used until the next cleaning. During cleaning another magnetic separator takes over the flow of the system being cleaned in order to maintain flow. This way no interruption is necessary.
Companies around the world such as EDP Gas, STOGIT, Snam Rete Gas, Ecopetrol, Kinder Morgan, Alliance Pipeline, Transmontaigne and others are using BPS magnetic separator systems and seeing the results for themselves.
Benefits for Canadian companies
From January to May 2010, Kinder Morgan conducted a test installation in its Kamloops, B.C. tank farm of two BPS 24-inch L x 2-inch D magnetic separators on their 12-inch pipeline running from Vancouver to Edmonton. A significant amount of Black Powder contamination was trapped on the magnetic separators. The removal of this contamination reduced premature wear of the pipe wall, pump components and meter. Kinder Morgan was happy with the results, but had these magnetic separators been installed in BPS stainless steel housing with 4x1 ratio for flow to allow for increased dwell time, the results would have been dramatically better.
Alliance Pipeline, another Canadian operation, has employed magnetic separation technology successfully on their cyclopentane heat exchange systems over the past four years. It is now standardized on all new builds.
In December 2013 they commissioned a new unit employing duplex black powder separators and removed a large amount of BP contamination. Metro Tech Systems' analysis of the extracted contamination indicates a high level of both ferrous (aluminium and iron) and non-ferrous (silica and carbon) debris trapped by the magnetic separator. This is realized by the static charge (static adhesion) that occurs in gas and hydrocarbon fluid transmission lines. The other method of removing non-ferrous Black Powder is by entrainment and this occurs when the sub-micron ferrous particles collide with and become married with the larger non-ferrous contamination.
Randy Berggren of Alliance Pipeline suggests that the installation of this BPS separator will be very beneficial in saving the pump seals, at a cost of $20,000 each, as well as increasing uptime.
In December 2013 Ecopetrol S.A. in Santa Marta, Colombia found high levels of Black Powder contamination originating from the naphtha when it was offloaded from the tanker and the storage reservoirs. The primary filters, before the pumps, were inefficient and failing to remove the BP from the liquid that is then pumped 300 km to another pumping station which in turn is pumped to the oilfields to dilute the crude prior to being pumped back to the coast.
In April 2012 Snam Rete Gas in Ravenna, Italy had a Natural Gas dispenser feed line for transit buses that contained BP contamination which was damaging the meter, valves and the compressor seals.
Costly maintenance was required to repair and clean the pipe system and compressor components every three months and the company was receiving many complaints from customers of dirty gas. Alex Priori of Renox S.r.l. suggested installing a magnetic separator prior to the compressor to remove the BP.
Mecoil's analysis of the Black Powder captured by the magnetic separator showed high quantities of ferrous and non-ferrous contamination that was removed from the flow. Snam Rete Gas has not had to conduct any maintenance on the compressor and meter at the customer's location and has not received a customer complaint about dirty gas since the installation.
Black Powder in fuels such as LNG will cause serious maintenance issues for end users. Being proactive and employing magnetic separation technology to remove black powder throughout the entire process will benefit both suppliers and end users significantly.