Chicago Pneumatic Launches the New CP6135-D80 Super Industrial 1-1/2" Impact Wrench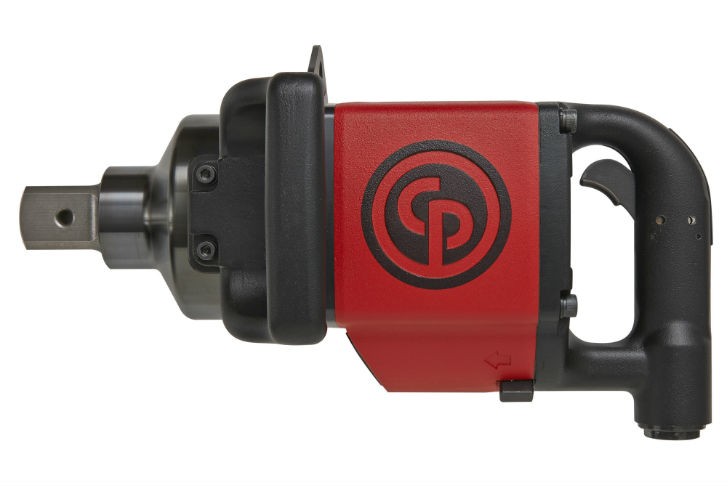 Chicago Pneumatic has launched the new CP6135-D80 impact wrench, one of the most powerful 1-1/2" industrial impact wrenches in its range of high performance tools. The super industrial pneumatic tool offers users in the oil, gas and petrochemical, mining and minerals processing and other heavy industries, exceptional power-to-weight ratio, premium quality and excellent ergonomics for optimum safety and user comfort.
The new tool has the highest power-to-weight ratio for its class of 167.1 ft-lbs / lbs [500Nm/kg] and provides a high maximum torque of 5,900ft-lbs [8,000Nm] for only 35.3lbs [16 Kg], and a high impact rate of 760 BPM. As a result, it meets virtually any super industrial bolting and unbolting need in heavy industry, helping maintenance engineers minimize downtime and therefore enabling companies to save associated costs.
The CP6135-D80 impact wrench is premium quality. The tool has high durability thanks to its Rocking Dog clutch mechanism, which is encapsulated with grease for constant lubrication, and its plain steel motor parts. The impact wrench also has a steel clutch housing and aluminum body, meaning it is rugged, providing high reliability in the harshest uses.
The operator's safety is another key user benefit delivered by the new CP6135-D80. It has a low vibration of 10.9m/s2, which is 30 per cent lower than comparable products, and a low noise level for excellent user comfort. It has an angled down front air exhaust that blows air away from the operator.
The wrench is ergonomically designed and incredibly user-friendly with features such as a reversible side handle (6-position), a full teasing trigger for smooth operations and to increase control, and convenient forward/reverse switch for easier manipulation. In addition, it includes a balancer attachment to suspend the tool for increased safety and productivity.
"With its extreme power, high quality and great ergonomics, the CP6135-D80 is an outstanding bolting tool," says Luis Clement, Chicago Pneumatic Tools Vice-president. "Operators can be confident that they can work efficiently and with better safety, with this new user-friendly impact wrench."
Company info
Related products