Rugged Tablet Computers Able To Survive In Harsh Environments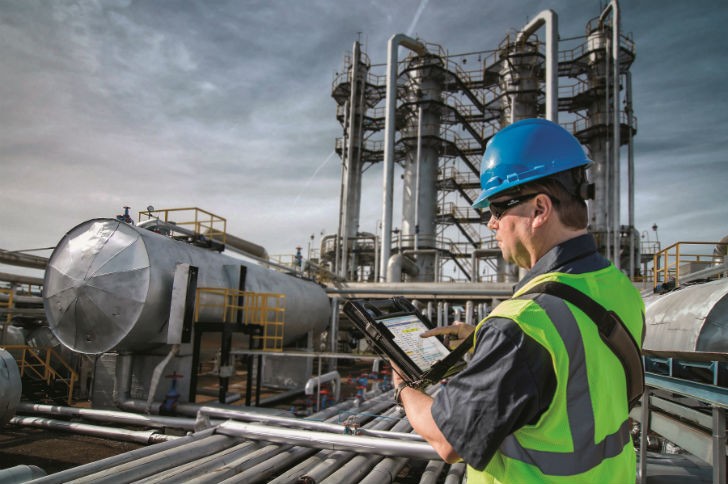 Many oil and gas companies are looking for ways to make field operations more efficient through the revolution in mobile computing. However, sometimes the complaint is made: "We tried tablets for the field staff. They said that the devices were too hard to use and too easy to break. So they went back to using paper."
But while some companies have found that their introduction of tablet PCs was less than successful, others have found significant benefits, including improvements in productivity, safety and cost savings.
Here are some pointers for improving end-user adoption and achieving mobility success in harsh or hostile environments, common to the oil patch.
Go rugged for field use
While a typical consumer tablet may be great for the boardroom, devices for field use must be appropriate to the field. This means being able to survive being dropped, many times, onto surfaces such as a steel drilling floor.
It also means being able to survive wide extremes of temperature – from the dashboard of a pickup on a sunny summer day, to the cold of an Alberta winter night. Because batteries such as those in tablets tend to lose power in extreme cold, many field workers using substandard tablets have learned to keep the devices tucked inside their parkas in winter.
Devices may be asked to survive other forms of hostile environment as well, such as being set down on surfaces that may be covered with a wide range of lubricants, fuels and other substances.
So be sure to look for a tablet that has been designed right from the start to be "ruggedized" to the demands of field use.
Keeping it safe
In many kinds of oil patch work, there is risk of explosions and fires caused by electrical devices. It is important that tablet devices, like other equipment, must be certified as safe for hazardous location classifications such as Class 1 Division 2.
If the devices can't be carried wherever workers go, they won't be as useful as they can be. Choose devices that are certified for the hazards of the environment where they will be used.
The software you choose must interface with the hardware to allow users to enter data without having to resort to using a keyboard. This means having a clear idea of the tasks that the device will have to perform. Possibly:
Taking a picture of a pipeline valve.
Reading the RFID tags on lengths of drill pipe to verify the size and fit of the pipe.
Writing to the same RFID tags, to indicate to the drilling crew the order in which the pipe is to be used.
It's best if all functions of the tablet can be done without the need to type – partly for the safety and convenience of workers who are wearing gloves. It's important that users be able input data easily, including through use of a stylus.
So that workers who are unable to read or are not familiar with English can use the device, it's vital that the software be designed with the workflow in mind. This could include making it so that workers might just need to check a red box or a green box to complete a task.
Some oil patch work is done in places where there is good mobile connectivity to the cellular mobile network, or a wireless hotspot. Yet much of the sector's work, particularly in exploration stages, is done in places far from these conveniences.
Accordingly, workers need to have devices that are fully functional without access to the cloud. This could include being able to gather information and store it on the device for later transmission, and viewing safety and instruction videos stored on the device.
Roll out the complete package
As an example of implementing a tablet program, one company in the oil patch purchased tablets and distributed them to their employees. While this was a step in the right direction, it was only six months later that the company provided the software needed to make the devices truly useful – and by that time the employees had decided that the tablets were of little use to them.
While it's imperative to choose a device that is rugged, field-ready and C1D2 certified, it is more important to make sure that there are applications to make the device useful.
The following four steps can help ensure a successful tablet PC program in the oil and gas industry:
1. Reality check – Understand the business processes that your company wants to improve.
2. Proof of concept – Determine if tablets will do the job, from a technology perspective.
3. Pilot stage – Field testing to see if tablets will really benefit the business process, whether there is a return on investment, and whether workers will actually see enough benefits to use the tablets.
4. Rollout – With appropriate training, including how to use a stylus (while wearing winter gloves), and tips on how to keep the devices functional, including re-charging when away from the office.
Tablet solutions must be able to provide full mobility for the end user – movement from the vehicle to the field, to the office, movement around the work site, and at the point of service. At the same time, C1D2 compliance is becoming increasingly valuable as it enables tablet PCs to be used in a broader variety of operating environments.
Oil and gas companies can now easily leverage next-generation mobile solutions and realize significant benefits in workforce productivity, asset optimization, compliance management and worker safety improvements.
Scott Ball is Canadian Country Manager for Motion Computing.