Enerpac Pneumatic Torque Wrenches Provide Continuous Rotation, Delivering Constant, Controlled Torque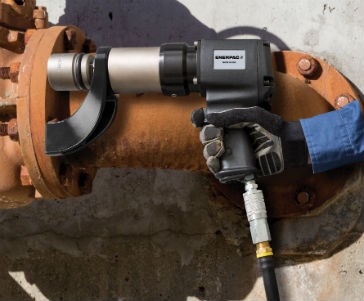 Enerpac has introduced its PTW-Series pneumatic torque wrenches, providing superior productivity and safe, simple operation. Featuring high-speed, continuous rotation that far exceeds that of similar hydraulic tools, the PTW-Series tools ensure constant torque output and reduce production downtime for bolting applications in mining, power generation and oil and gas industries.
With a unique, low-friction planetary gearbox design, the PTW-Series tools extend equipment uptime with minimal wear in even the harshest environments. This low-vibration design also reduces operator fatigue and risk of injury. Configured with a quiet air-controlled motor, the PTW-Series tools ensure continuous performance without disruption in both indoor and outdoor applications.
"The PTW-Series tools provide a dependable, simple-to-use solution for our customers' tough bolting jobs," said Kurt Huber, Global Product Manager – Bolting, Enerpac. "With continuous rotation, controlled torque and no time required to re-stroke tools, the PTW-Series pneumatic torque wrenches are ideal for applications where speed, precision and quality performance are critical."
The PTW-Series tools provide simple operation with an easy-to-operate, trigger style handle with quickly accessible tightening and loosening control, which eliminates the dangers of manual tightening. These ready-to-use tools also come with a Filter-Regulator-Lubricator (FRL) to ensure operators have all necessary components to utilize the wrench.
To accommodate diverse application requirements, the PTW-Series tools are available with a wide assortment of custom arms and accessories, including nose extensions for wheel bolts on off-road vehicles, reaction arms for deep sockets and sliding arms for variable bolt pitches. Arms are also available in various lengths.
All PTW-Series pneumatic torque wrenches are CE declared and are shipped complete with a unique calibration certificate, helping to ensure complete, verified accuracy.