Atlas Copco's compact SMB7-44 Hurricane booster featured at Offshore Technology Conference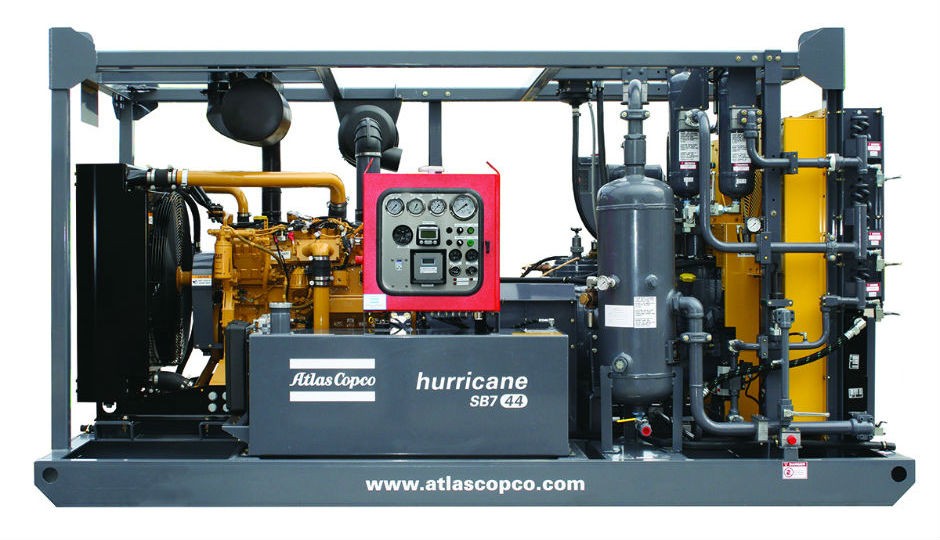 Atlas Copco's SMB7-44 Hurricane booster gives seismic exploration crews powerful air pressure while minimizing space consumption. The 13-by-7-foot booster generates as much as 2,500 psi to power air guns for gathering seismic data needed to locate oil and gas basins under the seabed.
The booster's six-cylinder, Caterpillar C7 Tier 3 engine operates at 1,800 rpm to generate a discharge pressure of as much as 2,500 psi. Its high-power performance continues through humid conditions and temperatures as high as 125 degrees because of the booster's dependable pre-cooler and intercoolers with scrubber tank.
The SMB7-44's pressure-regulating system contributes to a fast ROI by optimizing fuel consumption. The system automatically adjusts the amount of fuel fed to the engine based on air demand, which minimizes fuel consumption and achieves maximum uptime.
The booster features intuitive controls for easy operation and maximum safety. Atlas Copco designed the controls with an easy-to-read layout, including large pressure gauges and grouped switches, to quickly adjust air power for fluctuating demands. The controls are built into a stainless-steel instrument panel, which resists corrosion and displays operating pressures, engine temperatures and fault indicators. The instrument panel also alerts operators and automatically stops the unit if there is low engine oil pressure, excessive engine speed or high engine coolant temperature. This allows operators to immediately take corrective action and minimize the risk of damage to the equipment or boat. For additional safety, the SMB7-44 also features emergency stop and safety valves at the suction inter-stage and discharge.
The booster is coated with a durable anti-corrosion protection finish to withstand tough conditions. It has an open-skid body that makes service points, such as the diesel engine, filters and valves, easy to access. In addition, engine fluids are plumbed to the edge of the skid, which eliminates the hassle of maneuvering pans into the interior space. The standard, spillage-free base frame is sized to contain 110 percent of the machine's fluids and fuel, which safeguards the site and protects the environment. To enhance the ease of serviceability, Atlas Copco also offers valve and piston service kits so the units can be maintained onsite instead of sending them to a mechanic onshore.