Pipe bevelling tool ideal for large-diameter pipe that requires welding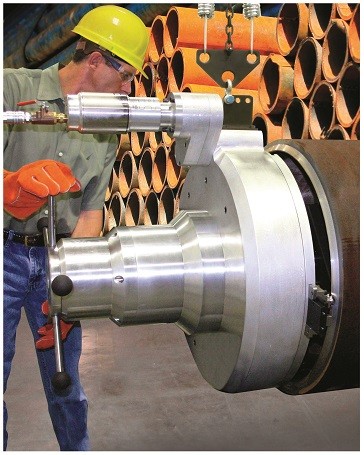 The Terminator MILLHOG Pipe Beveling Tool is a portable pipe machining and welding end prep tool that includes a dual spring safety hanger for easily maneuvering and precisely aligning it into a large pipe I.D. The tool is designed for large pipe from 8-5/8-inch I.D. to 36-inch O.D. and can bevel, face, and bore simultaneously to produce end preps of any angle, including "j" preps.
It comes equipped with a dual spring safety hanger to help align the tool which rigidly clamps to the I.D., has a tracker to compensate for variations in wall thickness, and a precision feed control to advance into the pipe.
Providing smooth, torque-free operation, the Terminator MILLHOG Pipe Beveling Tool is equipped with user-selectable formed TiN coated tool bits and is ideal for any large-diameter pipe fabrication that requires welding. Available with a five-hp pneumatic motor or optional hydraulic motor, applications include oil and gas pipelines and process steam lines.