Burners benefit from reduced flame height and lower emissions
System improves efficiency and cuts NOx in process heaters and steam generators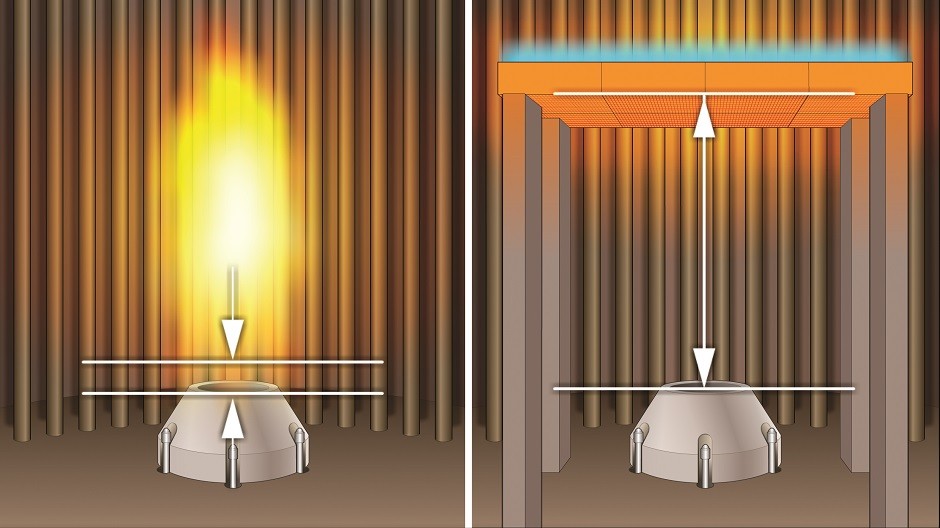 Emissions regulations affecting heating units in refineries and steam generators have operators hunting for ways to cut greenhouse gases while maintaining the efficiency of their burners.
Many methods of reducing pollutants such as NOx and CO result in reduced throughput of product in refineries and lower steam generation.
Those reductions impact the bottom line – which, for many companies, is already hurting from low oil prices across the industry.
One company is investigating a heating method that could provide a way of meeting environmental regulations while allowing for greater heat production in process heaters and steam generators.
"Heat, in various forms, goes into everything around you. Everything in the modern world is produced using combustion at some point in the process," related Geoff Osler, chief marketing officer with ClearSign. "Any time you burn hydrocarbons, you're going to create certain types of pollution. When operators are forced to implement pollution controls, they take a hit on the expense of that cleanup equipment and they take an operating expense: typically, the process runs less efficiently with that equipment in place."
ClearSign has focused its efforts on changing the heating process at a key point in time: the point at which hydrocarbons ignite to generate flame and heat.
"We burn fuel differently," Osler explained of the company's Duplex technology. "On a once-through steam generator (OTSG), typically a large horizontally fired system has a roaring flame of 200 to 300 million BTU per hour. We insert a porous ceramic matrix – think of a tile about six inches thick that goes up about 3/4 of the way along the interior of the steam generator. We use the traditional burner to heat that tile up, and once it hits the auto-ignition temperature, when it glows a bright orange, almost white, the main flame is switched off and all the combustion occurs within the radiant porous matrix."
At that temperature, fuel and oxygen mix within the pores of the tile and continue to burn, but with a far smaller flame and far more efficient mixing, Osler explained.
Greater mixing of gases
"This system allows for much greater mixing of the gases, typically air and natural gas, and that dramatically reduces the amount of NOx produced," he said. "Typically a OTSG generates up to 50 parts per million of NOx; we bring it immediately down to less than five ppm, much lower than even the strictest emissions regulations in Canada."
The Duplex tile becomes a radiant heat source that transmits heat much more efficiently into the tubes surrounding it, and thus allows the operator to use less fuel. While exact fuel savings numbers are still being determined in field operations of large geneators in California, any cost reduction helps operators, Osler noted.
"Typically, operators pay a large penalty to implement pollution controls, and with the current price environment and cost of extraction of oil from the oil sands, every penny they save goes straight to the bottom line," he said. "If we can help their bottom line while dramatically reducing the environmental impact of their units, become very interested."
Process heaters in refineries are also being targeted for pollution reduction and improved efficiency by the ClearSign Duplex system. In their case, safety is also improved, thanks to the smaller amount of flame produced.
Often, low-NOx burners face challenges with the shape of the flame, which is fired vertically in process heaters rather than horizontally. That can be a hazard to the facility.
"The flame can become unruly, and may continually impinge on or touch the tubes within the burner," Osler said. "When the flame touches those tubes carrying hydrocarbons it may eventually cause a hole. That is one of the main causes of explosions and loss of life in refineries."
The Duplex system cuts that danger down by generating a wide, shallow area of flame atop the tile, radiating heat through the burner while controlling the fire and eliminating impingement issues. The only other way operators can reduce that danger is by dialing the heater back and generating a smaller flame – reducing product throughput.
"Refineries can't just add more process heaters whenever they wish, and many are bottlenecked because they have to dial back for low NOx applications," Osler said. "With our process they can put more crude in one end and get more refined product out the other, realizing an increase in profitability while at the same time meeting environmental regulations."
Osler said the Duplex system is an easy upgrade for refineries or OTSGs. Because it installs within the existing space of the heater, it can easily be done during a scheduled shutdown period, making it easy to avoid additional costs.
Currently, both the OTSG and refinery systems are commercially available. The company is working with operators in southern California, and Osler said OTSG systems will be installed in the Fort McMurray area in the near future.
More from Drilling & Production