Blackmer Introduces HD943 and HDL943 Oil-Free Reciprocating Gas Compressor Line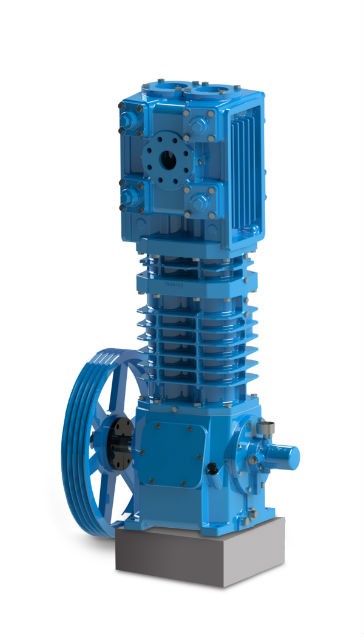 Blackmer, part of PSG, a Dover company and a global leader in positive displacement and centrifugal pump, and reciprocating compressor technologies, is pleased to announce the release of its new triple-seal HD943 and HDL943 Oil-Free Reciprocating Gas Compressor line. Featuring a double-distance piece design with three individual sets of packing to maintain product purity and prevent oil migration, Blackmer HD943 and HDL943 compressors have been specifically designed for applications that require maximum leakage control.
Blackmer HD943 and HDL943 compressors have taken the concerns regarding vapor recovery and product contamination in oil-and-gas field applications into consideration by applying innovative distance piece design technology. The non-lubricated (oil-free) design of these compressors includes two distance piece compartments between the compressor's cylinder and crankcase. External ports are located at the top and bottom of the distance piece chambers that can be used for purging, pressurizing or venting. This provides the compressor's user maximum leakage control of any vapors that would normally vent into the crankcase uncontrollably with other designs. It also allows for control of potentially harmful vapors to a recovery tank, safe disposal area or flare system before they can escape to the atmosphere. Blackmer HD943 and HDL943 compressors are also available with optional combinations of distance piece purging and venting, which add to their flexibility for even greater leakage control.
In addition to their innovative distance piece design, Blackmer HD943 and HDL943 compressors also feature high-efficiency ductile-iron valves with PEEK valve plates, ductile-iron head and cylinders, three sets of self-adjusting filled PTFE packing sets on each piston rod for maximum leakage control, self-lubricating PTFE piston rings, a precision-ground crankshaft and a pressure-lubricated crankcase. The non-lubricated design means no lubricating oil is used in the upper cylinder or head area where it could add additional contaminate to the gas stream. These unique design features allow Blackmer compressors to provide maximum performance and reliability under the most severe service conditions, and offer the combined characteristics of sustained high-level performance, energy efficiency, trouble-free operation and low maintenance costs.