New building lineup serves need for large fabric covered structures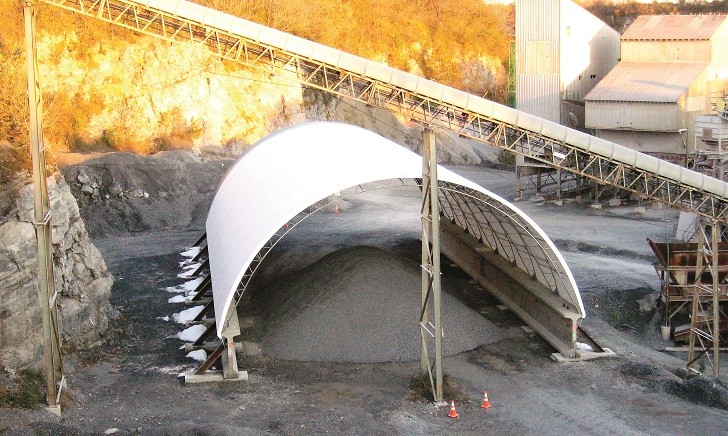 Maximum efficiency is one of the most important components for companies serving the oil and gas industry, especially when it comes to those supplying structures. Buildings can be installed in as little as a week and can be deconstructed and moved in the same amount of time, which gives up a significant amount of upfront savings in construction time.
Winkler Structures has been offering high quality, innovative products and solutions for over 35 years. The company started out manufacturing agricultural truck tarps and has become known for its commitment to quality in portable structures.
The company provides quality backed, custom fabric covered buildings that are useful for equipment and machinery storage, frac sand storage, equipment maintenance facilities, cold storage, warehousing, site protection, housing units, and anything else that requires protection from the elements.
"Our structures are often custom designed for our customers, which means you don't need to cater your needs to our buildings, but rather we cater our buildings to our customers' requirements," explained Rick Knelsen, VP of Sales & Marketing. "This allows for maximum efficiency in both capacity and our customers' man-hours."
The specialty polyethylene material covering Winkler's buildings has amazing strength-to-weight ratios that allow for easier, faster and money-saving installations. This advanced fabric also provides natural lighting into the building for a safe and efficient work environment, while also producing savings in electricity costs.
In 2014, the company underwent a change of ownership that fuelled a complete overhaul of the brand, a process which caused the company to reflect on its past and set the direction for future growth.
"Our tagline expresses our vision; which is to provide our customers with a No Compromise Fabric Structure," said Knelsen. "It's important that people trust that their assets are protected with a structural solution and that at the end of the day, they can focus on their operations with confidence."
Winkler has recently launched a completely new building lineup to meet the growing demand for larger fabric covered buildings. One of these buildings, branded the Trident, offers an innovative rigid steel frame that literally widens the possibilities that Winkler Structures can provide. The Trident's solid web beams offer widths up to 250 feet with a clear span design, creating a spacious, obstruction- free area inside the building which can also be customized to any length. Its straight wall design means that doors can be added to any area of the building for easy accessibility, or additionally, end walls can be left completely open for quick transfer of large machinery and equipment in and out of the building.
Due to their strength and resistance to corrosion, the Trident's solid steel beams also offer protection and durability. Various coatings are available including grey primer, powder coated, or hot-dipped for extreme protection against corrosion. Buildings can be customized to include a variety of options such as doors, insulation, ventilation, and hanging accessories such as conveyors.
The introduction of the Trident model to its building lineup is just one part of Winkler Structures' complete series release. Each new structure profile has been personalized with its own brand and each one offers various widths, among other structural features. Any of Winkler Structures' standard options can be used in oil and gas operations, or a building can be completely custom designed to meet specific needs.
The company takes a holistic approach to the manufacturing process. Everything including drafting and design, material handling, welding, packaging, and shipping is all done under the same roof in the company's 60,000-square-foot plant. The facility even includes the company's head offices on site, allowing effective communication between departments of the Winkler Structures family.
Company info
Related products