Rugged truck provides strong platform for custom oilfield uses
122SD designed to withstand harsh conditions similar to the oilfields of Alberta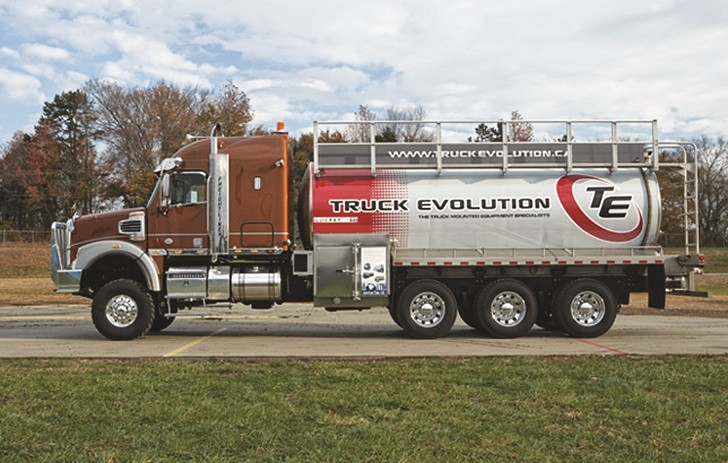 Truck Evolution is a leader in sales and distribution of truck-mounted equipment in Alberta. Founded in 2011, the company sells some of the most technologically-advanced truck-mounted equipment available in North America and stocks a complete line of replacement parts to get customers back on the road as soon as possible.
Freightliner Trucks' versatile 122SD is a popular platform for Truck Evolution's customers who are looking to tackle the harsh conditions of the oilfields of Alberta.
A rugged powerhouse, the 122SD was designed to withstand roads and conditions that would intimidate its competitors. The 122SD is a heavy duty commercial truck that is spec'd for oil tank service in northern Alberta, with its severe terrain and winding mountain roads.
From its powerful Detroit engine to its smooth maneuverability and comfortable cab, the 122SD takes a work truck to the next level. With the ability to haul over 210,000 pounds on its 306-inch wheel base, the 122SD is tough as nails and can conquer nearly any project thrown its way. Equipped with an Eaton Ultrashift Plus automated transmission, 600 horsepower and eight-wheel drive, this heavy duty truck can successfully navigate the extreme challenges of Alberta's oilfields.
Under the Freightliner's 122SD's hood, drivers are able to easily administer their daily check points due to layout simplicity. The Detroit Virtual Technician also simplify life for its drivers by collecting data and immediately analyzing the situation if a check engine light illuminates, generating a technical snapshot of the engine's status before, during and after a fault code event.
The 122SD is also available with an Airweigh strain gauge that senses the amount of weight on the steer axle.
"The 122SD is a product that we've developed by listening to our customers and understanding their needs, and we've collectively crafted it to heavy haul perfection. This severe-duty truck is one of the most durable trucks on the market," said JP Davis, market segment manager for Freightliner Trucks. "The maneuverability, toughness and safety of this truck helps businesses enhance their bottom lines."