Forego fusion: new methods for joining HDPE pipe
Mechanical couplings are giving traditional polyethylene piping fusion systems a run for their money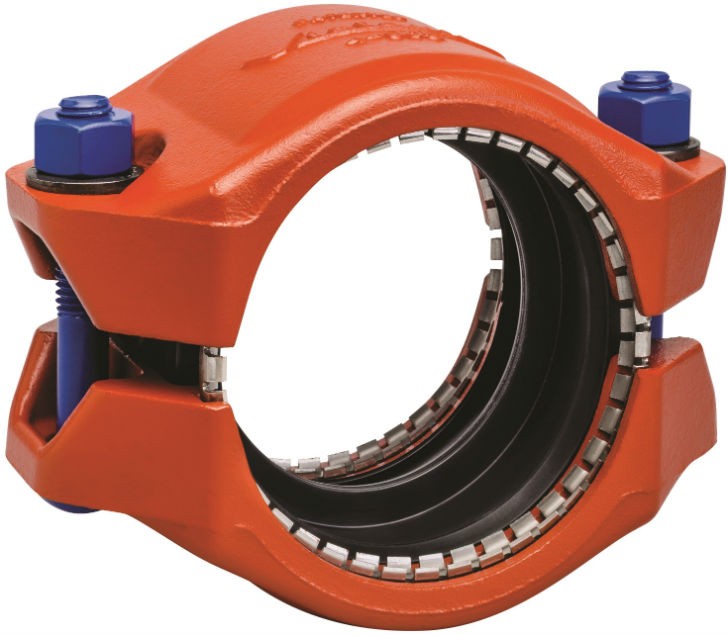 High-density polyethylene (HDPE) pipe is beneficial in oil and gas applications because it provides flexibility, durability and abrasion resistance more cost effectively than lined steel pipe. Fusion, considered the standard joining method for HDPE, presents significant challenges in conditions that aren't ideal. The industry has sought alternatives and manufacturers have answered with various mechanical joining methods. However, none of these have unseated fusion as the incumbent, and the methods have, for the most part, remained specialty joints.
New mechanical joining options have recently been introduced that hold promise as a true alternative to fusing. In this piece, we'll review the mechanics and general advantages of the emerging technology in comparison to fusion.
Fusion frustrations
Many industrial markets are increasingly specifying HDPE pipe for the advantages it brings over materials such as steel, cement, PVC and other plastics. Manufacturers are answering the demand with ever-larger pipe sizes; as of this writing, HDPE is available in diameters up to 72 inches. Heat fusion, the most common method used to join HDPE pipe, works by heating two pipe ends and pressing them together, creating a permanent joint that converts individual sections of pipe into a single, continuous line. Fusion creates high-strength, reliable joints, but the process presents several challenges.
There are four primary issues associated with fusion. The first relates to the equipment. The capital cost of fusion equipment can range from tens of thousands to hundreds of thousands of dollars. Equipment designed to join larger sizes can border on half a million. Operating such specialized equipment requires training or certified crews. Availability of the equipment can also be a problem.
The second difficulty is that the fusion process is dependent on weather conditions. The presence of moisture, be it rain, snow, sweat or condensation, creates impurities in the fusion process that can compromise the joint. As a result, protective tents or covers are required when fusing in inclement conditions. Atmospheric conditions also affect joint times; in Canada in the middle of winter, for example, the heating process takes longer. In warmer climates, it can take longer to cool the pipe upon completion of the fuse.
Confirmation of joint integrity is the third issue. An improperly fused joint can have the same look as a properly fused joint, and unlike X-rays for steel pipe, there's no method that provides confirmation for plastic pipe, short of putting the system into service. The Plastics Pipe Institute (PPI) has recognized this challenge and convened a task force to identify ways to verify fused joints.
Finally, polyethylene piping systems tend to tie into other material types: concrete, steel or PVC, for instance. Fusion can't be used to join HDPE to other materials, so there's a need for transitional joining methods.
These challenges have led many oil and gas operators to seek alternative joining methods. Until recently, their options were limited.
Mechanical joining methods
The most recent advancements for joining HDPE pipe include grooved and plain-end mechanical couplings. Designed for small-diameter HDPE pipe, plain-end couplings are pushed onto the pipe-end as a fully assembled unit, connected to a second pipe-end, and tightened to complete installation. The couplings contain stainless steel restraint rings that bite into the outer pipe-wall around the pipe's circumference as the coupling housing segments are tightened, creating 360-degree engagement. Metal-to-metal bolt-pad contact provides visual confirmation of proper assembly.
HDPE pipe can also be joined with grooved couplings, typically in larger pipe sizes. The coupling housing engages into grooves processed into the pipe-ends – albeit two grooves on each pipe-end instead of one. The assembly process entails positioning a gasket around the joint, placing the coupling housing segments over the gasket so that the keys engage the grooves, then inserting and tightening the fasteners to complete installation. Like the plain-end couplings, grooved couplings also offer visual confirmation of correct installation.
Grooved and plain-end mechanical couplings offer quick, simple and weather-independent installation, as well as performance that matches or exceeds the capabilities of fusion.
The couplings can be installed up to 10 times faster than fusing a joint. There's no equipment set-up or prep time, and joint completion time doesn't depend on atmospheric conditions. While fusing can prolong the installation of vertical systems, mechanical couplings can be easily installed in vertical orientations as well as in tight spaces. The couplings also reduce maintenance time – fitting replacement, for example – as they can be disassembled and removed from the pipe then easily reassembled upon completion of the work.
In addition to quick installation, mechanical couplings also simplify assembly as no special equipment or tools are necessary – only a socket wrench or impact gun. There's no need to send staff out for training or bring in certified crews to operate fusing equipment.
Weather is not an issue for mechanical couplings; they can be installed rain or shine and in extreme temperatures without affecting joint times. Protective tents are unnecessary, as water does not compromise joint integrity.
The ability of mechanical joints to match the performance capabilities of fused joints has traditionally been a trade-off of such technology; however, recent advancements show this changing. For example, new HDPE couplings from Victaulic meet or exceed the performance capabilities of HDPE pipe, including working pressure, end pull load specifications and minimum bend radius requirements. This means the pipe can be pushed, dragged and subjected to temperature and pressure swings without concerns that the joints will disengage.
Fusion has long been the standard joining method for HDPE pipe, but new mechanical joining methods are proving promising for their ability to join HDPE quicker and easier without sacrificing performance. The future will almost certainly bring more technological advancements in this area that could change the way the industry joins HDPE pipe, setting a new standard.
HDPE couplings cut tank battery installation time
An oil and gas company in the U.S. with more than 36,000 wells recently used Victaulic Refuse-to-Fuse HDPE couplings to join the 3-inch load lines at a new tank battery in Texas. The company originally planned to fuse the piping, but the contractor opted to install the lines with Style 905 HDPE couplings due to the method's ease and speed of installation. Style 905 couplings join plain-end HDPE pipe 2-6 inches in diameter, and can be used on pipe with standard dimension ratio (SDR) of 7 to 17. The contractor estimated that fusing the lines would have taken more than two days; the use of mechanical couplings reduced installation time to just half a day. OGPN
Geoff Fabian is an oil and gas sales manager with Victaulic.
Related products