Trimble announces LOADRITE H2250 Haul Truck Monitor for quarries
In-cab and remote reporting of haul truck productivity and efficiency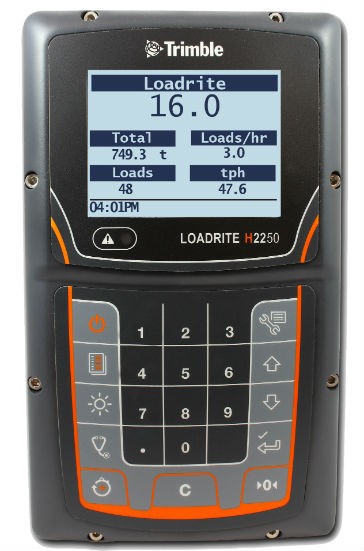 Trimble has announced the availability of Trimble LOADRITE H2250 Haul Truck Monitor for rigid body haul trucks in the aggregates extraction and process industry. The H2250 is an in-cab display and sensor system with an InsightHQ cloud reporting option for reporting.
The H2250 provides a near real-time reporting of haul truck production and process monitoring, driving increased production and limiting costs. It helps quarry managers, supervisors and operators by presenting information to monitor and improve the processes and handling of the quarry haul fleet.
H2250 is suitable for rigid body haul trucks in the aggregates extraction industry, in both pit truck and bin truck applications.
The H2250 provides automatic haul truck load counting, and payload measurement to within +/- 3 percent accuracy (typical), It also features near real time production reporting, truck speed monitoring, cycle time analysis and location based material tracking.
Using data from the H2250, fleet managers are able to empower operators and make informed decisions of haul truck process improvements. Benefits include lowering transport costs by optimizing payload, reducing cycle times and supporting safe operation of haul trucks.
"Two things make Trimble's haul truck monitoring system unique", says Trimble Loadrite general manager, Johan Smet. "First, it a market leading truck monitoring system, yet designed specifically to make economic and operational sense for quarries and small mining operations. Second, it fits seamlessly into Trimble's Connected Quarry system, providing site managers near real-time visibility across their entire operations, allowing them to see how their decisions affect operation as a whole, rather than just a single step in the process. As such, the haul truck monitoring system underscores Trimble's holistic approach to operations management, and our commitment to working with industry leaders to develop the tools they need to run their businesses."
H2250 productivity reports show accurate production figures removing the need for tally sheets and production estimates. Highlights material movement issues e. g. poor haul road construction and inefficient product movements. Cycles time reports include graphical reports of haul truck activity, loading time, haul time, queuing time that show machinery availability and allow fleet managers to make improvements that affect production during the shift. Speeding reports overlay speeding events over quarry maps to identify operator skill gaps or haul road design issues to improve machine operation, fuel consumption and reduce machine wear. For a quick understanding of haul fleet productivity, the dashboard shows each truck's cycle count and daily tonnage to help managers check their haul fleet is meeting plant demand, adjusting to changes in cycle time, product ratios, etc. On-screen alerts provide speeding, rollover, tray-up and overloading alerts.