ConocoPhillips, Anadarko, Chevron, Murphy Oil, Apache Discuss Production Chemicals Optimization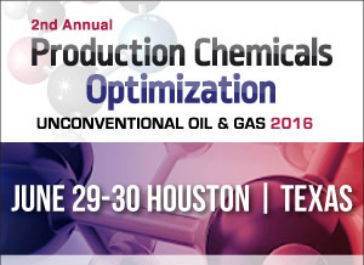 With production remaining consistent, and in some cases increasing across the Lower 48, a large proportion of expenditure involves investment in production chemicals.
Production chemicals optimization continues to be the single most important area where operators are proactively trying to cut their cost to optimum levels without scaling down the benefits of chemical remediation.
In the second year of consultations, the main question raised by the industry now is: How can operators realistically set up a chemical program, and get down to detail on a well-by-well basis without increasing costs?
Most E&Ps are operating a number of wells, and are making generalizations for what they should be doing on each well, instead of customizing it individually.
With an industry-approved agenda, delivering new success stories and new ways of operating, the 2nd Annual Production Chemicals Optimization 2016 (June 29-30, Houston) will cover topics including:
Cost-Effective Solutions For Paraffin Control, Corrosion And H2S Scavenging
Results From Other Operators To Evaluate The Performance Of Their Chemical Program
Best Practice Case Studies On Low Cost Delivery And Deployment Methods
Success Stories On Applying New Chemistries To Address Problems With Specific Wells
Speakers include production chemists and engineers from E&Ps including ConocoPhillips, Anadarko, Chevron, Murphy Oil, Apache, Concho Resources,Liberty Resources, Zarvona Energy and Endurance Resources.
For more information please visit: www.production-chemicals-optimization.com