Minimizing emergency and disaster impact for oil sands operations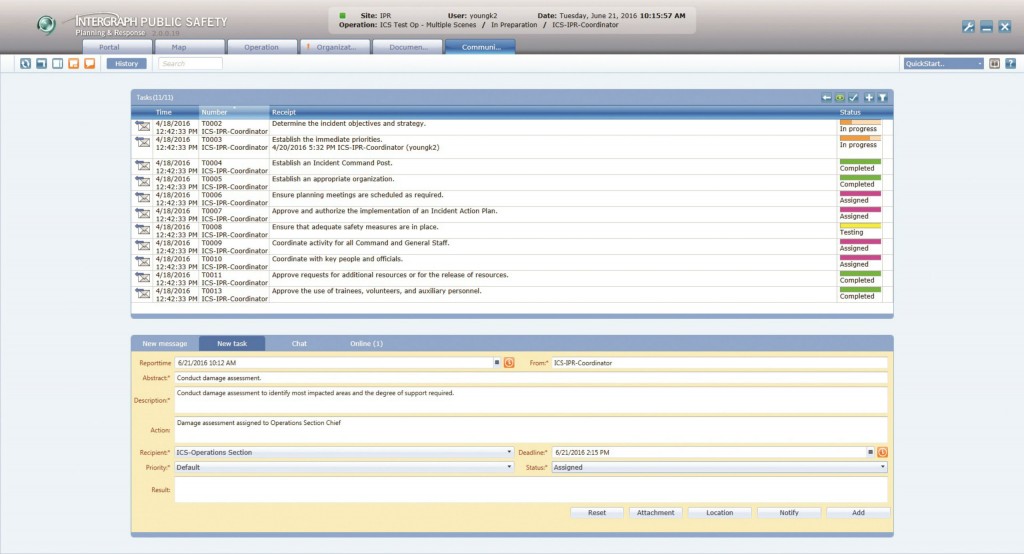 Forest fires are more than a common occurrence – they are a necessary part of a forest's natural life cycle. In Alberta, where 57 percent of the province is boreal forest, both controlled and uncontrolled burns are the norm. This is why when the blaze initially erupted near Fort McMurray on May 1, Albertans did not panic. After all, the area had faced many fires before, such as the 1995 fire that engulfed Highway 63, cutting off the only route into the city, and in 2011, The Richardson fire wiped out a record-breaking 700,000 hectares just north of the city's limits. Fort Mac learned from their experiences; a fireguard had been built around the city, underbrush was routinely being removed, and the city's emergency operations centre was built in the municipal water-treatment plant, a location assumed to be safe from potential fires.
Despite all of these preventative measures, a perfect storm of unexpected conditions including unseasonably high temperatures, dry conditions and high winds fuelled the fire, destroying 2,400 structures, ripping through 590,000 hectares of land, and resulting in the costliest disaster in Canadian history.
As a result, approximately one million barrels of oil was lost daily – a quarter of Canada's oil production – and cost the Albertan economy $70 million per day, contributing to the rise of oil prices seen around the globe.
Importance of emergency preparedness
The Fort McMurray scenario shows that despite best efforts, disasters can and will happen, making emergency preparedness the most important factor when it comes to recovery. Whether these disasters are natural, mechanical or otherwise, poorly managed emergencies can be especially harmful to the Canadian oil industry. The record breaking 2011 fire caused about $400 million in damage to Canadian National's Horizon oilsands plant. The most recent 2016 blaze ranked as the fourth fire in the past 15 years to consume more than 100,000 hectares of land, and undoubtedly it will happen again.
These experiences demonstrate the necessity of strong and efficient emergency response protocol to minimize damage, lost revenues and potential casualties due to natural disasters like the Fort McMurray wildfires.
The advent of advanced technologies and improved processes has helped to minimize the impact of these unforeseen disasters by streamlining emergency services, and communicating effectively and efficiently across the varying levels of the operating picture and chain of command through emergency management programs. Programs, such as Hexagon Safety and Infrastructure's Intergraph Planning & Response, ensure existing plans, protocols and communications are streamlined through a single platform that can be made accessible to all members of a response team, regardless of locations.
Navigating an emergency
While most companies have their own emergency response protocol, there are typically a number of important steps and considerations to implement before, during and after an emergency. Using an online-based emergency response solution ensures that every aspect of emergency response is handled effectively and efficiently with no important steps overlooked.
While most organizations have updated their emergency response framework from dusty binders and outdated handbooks, software-based programs like Intergraph Planning & Response allow companies to organize and update all emergency response related content and communications within a single online platform. This allows companies to build and update emergency response documents into templates or action plans. Using a variety of sources like text, images and maps, a software-enabled program can ensure all aspects of a consolidated plan are accessible to all team members when they need it. Since all documents are stored and accessed within one platform, all documentation has the capacity to be updated in real time, keeping it current and accurate while always accessible.
The ability to receive and dispatch important correspondence like email and text messages from a single platform is invaluable in any emergency situation. Enabling emergency personnel to communicate any time decreases response times, costs and casualties. For example, Intergraph Planning & Response enables emergency personnel to assess an unexpected situation based on a number of factors and quickly activate pre-determined tasks, roles and direction through its communication interface. Various stakeholders are automatically notified and communicated tasks for the roles identified within the applicable action plan.
As every emergency situation differs, interactive visual representations of hazard zones enable emergency personnel to map out the best possible ways to execute emergency response plans as the situation unfolds. Solutions like Intergraph Planning & Response allow organizations to strategically place responders and identify resources based on proximity to the impacted areas. This can ensure constant monitoring of the situation, and safe navigation throughout all stages of the response process.
For example, Intergraph Planning & Response's mapping interface allows customized symbols to be placed on site maps, along hazard areas, evacuation zones, and supply locations – both in the emergency and disaster planning phases and in real time during an emergency event. Response team members can also share photos and video of damaged sites which provides – in real time – the visual information needed to increase situational awareness and minimize risk and production loss.
Resource allocation management
Immediate access to resources is a crucial factor in the emergency response process. Whether it is man power, equipment and/or supplies, access to the necessary tools allows emergency responders to make quick decisions and take action to resolve a disaster before it escalates. Intergraph Planning & Response includes interfaces and tools for managing resources throughout an emergency response.
Organization and timeline modules enable emergency managers to prepare for and actively manage the resources required to handle any particular emergency situation. Intergraph Planning & Response's platform does this by providing the supporting framework to track human resource counts and availability throughout an event. In addition, Intergraph Planning & Response can integrate equipment catalogs and procurement chains, as well as human resource skills and training information, through either an alternate system or through a local copy reference.
In an oil or gas production site, a crucial first step is to identify where potential hazards are concentrated, and establish the applicable hazard zone distances required to control or isolate access to the unsafe environment (including necessary evacuation or shelter-in-place orders).
Communications protocol should be implemented as quickly as possible after identifying these locations to ensure safe approaches, evacuations and perimeters. Ongoing monitoring and updating of the emergency situation status through the duration of its management is simplified through Intergraph Planning & Response, which also facilitates, documents and updates communications activities in real time.
Ensuring the safety of all people involved or affected in an emergency situation is priority number one, and communication is a key component of this.
In the wake of an emergency, completing applicable documentation and reporting about the event details (for both regulatory purposes and internal learning) are commonly overlooked tasks, yet are important final steps. Being able to justify actions during the review process is paramount to maintaining an organization's integrity while remaining compliant. This can be challenging if information is not documented properly during the emergency response process, which can be difficult without an integrated system.
A single platform, like Intergraph Planning & Response, can capture all documents and subsequent communications and actions, enabling emergency managers to build their post-emergency report from that one platform. This minimizes time wasted looking for resources and collecting numerous documents often stored in various locations.