Steel enclosures designed for hazardous areas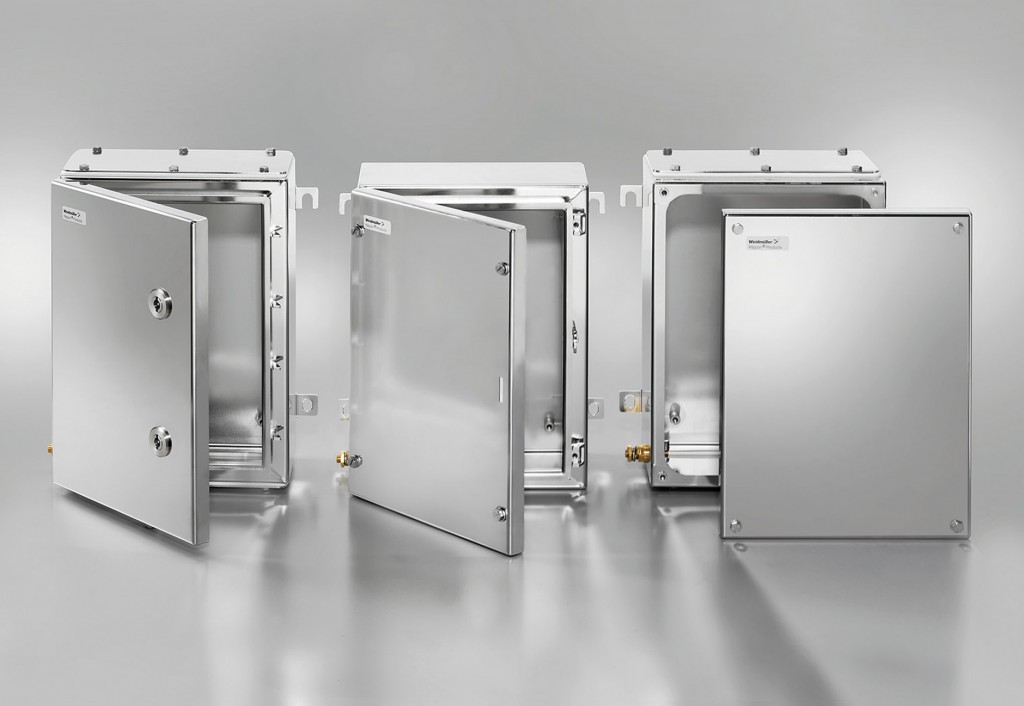 Weidmuller expands their Klippon TB (Terminal Box) range of hazardous area steel enclosures with the introduction of three new versions – the MH (Multi-Hinge), QL (Quarter-Lock) and FS (Fixed-Screw). These new enclosures feature a range of approvals that include cULus, AEx, ATEX and IECEx ratings, making them suitable for use in Class 1/Division 2 and Class 1/Zone 0, 1, 2, 20, 21 and 22.
These enclosures comply with the latest, stricter requirements covering equipment for use in potentially explosive atmospheres, making them ideally suited for harsh environment applications in Oil & Gas, Petrochemical, Nuclear and Waste Water industries.
Weidmuller's new Klippon TB MH, QL and FS range enclosures share a number of design features that contribute to high performance in harsh environment applications, such as ingress protection ratings of IP66/67 along with NEMA 3, 4X and 12. Extended heat and cold stability testing have been administered to document the enclosures ability to withstand extreme usage environments (336 hours at 155°C/311°F and -65°C/-85°F for 24 hours). For cable entry flexibility, each enclosure is equipped with up to four gland plates that are secured with M6 hex-head screws. A silicone gasket is standard to ensure the enclosures are suitable for use in temperature extremes, ranging from -76°F to 275°F (-60°C to +135°C).
Impact and corrosion resistant, these enclosures can also be used in environments that are exposed to salt air. A grounding stud on the cover and base of the enclosure conforms to the most recent standards and the base grounding stud can be replaced in case of damage. The enclosures are made of 316L stainless steel with a protective electro-polished finish. The Klippon enclosure series of MH, QL and FS are available in 12 sizes and 3 standard depths (5", 6" and 8").
The MH range enclosures are multi-hinged for increased flexibility. Users choose which side the lid hinges by moving the padlock tab to allow for the reversal of lid opening (left-to-right or right-to-left). The cover locking mechanism is located outside the sealed zone to prevent any occurrence of interference with the seal.
Company info
Related products