New EnPak all-in-one work truck power system
Unit is more capable while reducing fuel and maintenance expenses and saving payload space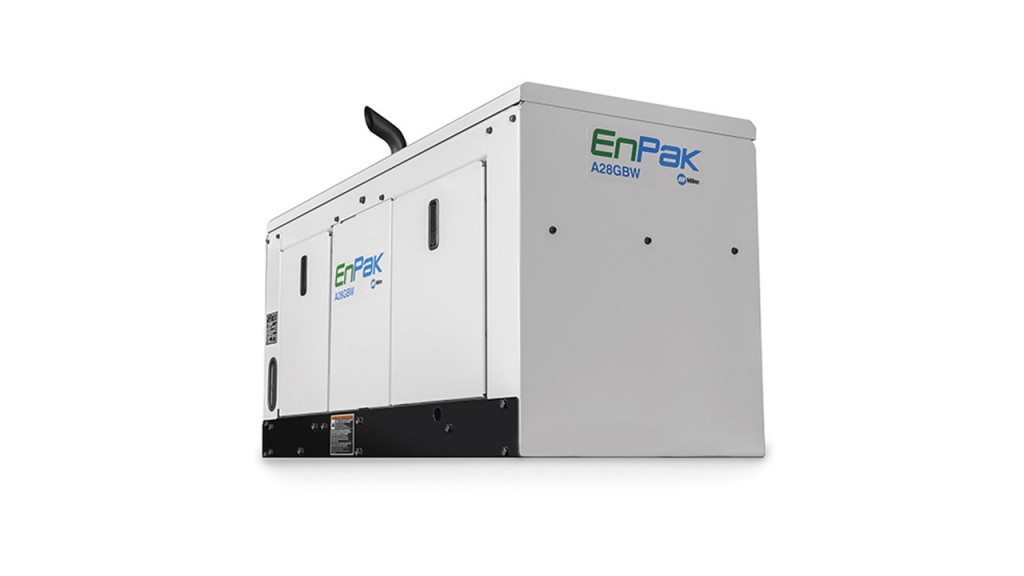 Company info
Related products
Miller Electric Mfg. Co. has introduced the new EnPak A28GBW, an all-in-one work truck power solution that delivers compressed air for jobsite tools, generator power for electrical needs, battery charging and crank assist, plus versatile stick welding capabilities for field repairs.
Service technicians can turn their trucks off and use the EnPak A28 to get virtually any job done in the field, saving on costly fuel and maintenance expenses associated with running a Tier 4-compliant truck engine.

"The EnPak A28GBW is poised to be the industry-leading work truck power solution, delivering the reliability and performance you expect from Miller," said Travis Purgett, product manager, Power Systems Division, Miller Electric Mfg. Co. "With a powerful, efficient gas engine, the EnPak A28 can easily meet a work crew's needs for compressed air, electrical power, battery charge/crank assist, and stick welding — all while the work truck's engine is turned off."
The EnPak A28 delivers:
28 cfm compressed air: Virtually any tool can be powered by the industrial grade rotary-screw compressor.
Electric power: A 5,500-watt generator lets users power jobsite tools and even operate truck-mounted electric/hydraulic cranes.
Battery charge/crank assist: Delivers up to 100 amps of DC power for 12V/24V battery charging and up to 300 amps for crank assist.
Welding capability: Field repairs can be completed with the versatile 210-amp stick welder; the EnPak A28 is the first EnPak to include built-in weld functionality.
Remote panel with simple, straightforward controls: Eliminates the need for technicians to climb into the truck bed to start and operate the unit, saving time and reducing risk of injury.
Fully enclosed compact case: The EnPak A28's small footprint (45 inches long, 20 inches wide and 24 inches tall) provides more space for tools and service parts. It also saves up to 550 pounds compared to using a PTO-driven air compressor and engine-driven welder/generator onboard. Fully enclosed, corrosion-resistant case provides industrial quality for professional-level reliability, capability and appearance.
"If you're using a PTO-driven air compressor and engine-driven welder/generator on your work truck, you're spending too much money on fuel and maintenance costs. By turning off your truck and turning on your EnPak A28 you can decrease truck engine idle time by up to 75 percent, which results in lower fuel costs and reduced wear on the truck," Purgett said. "Not only that, there's also significant space savings if you're currently carrying multiple pieces of equipment. The all-in-one design of EnPak can reduce work truck weight by up to 550 pounds, and can save up to 24 cubic feet for more available payload."