Versatility the key for new medium voltage drive line
Recent acquisition of Vacon allows Danfoss to develop drives and a modular approach to provide customers a variety of configurations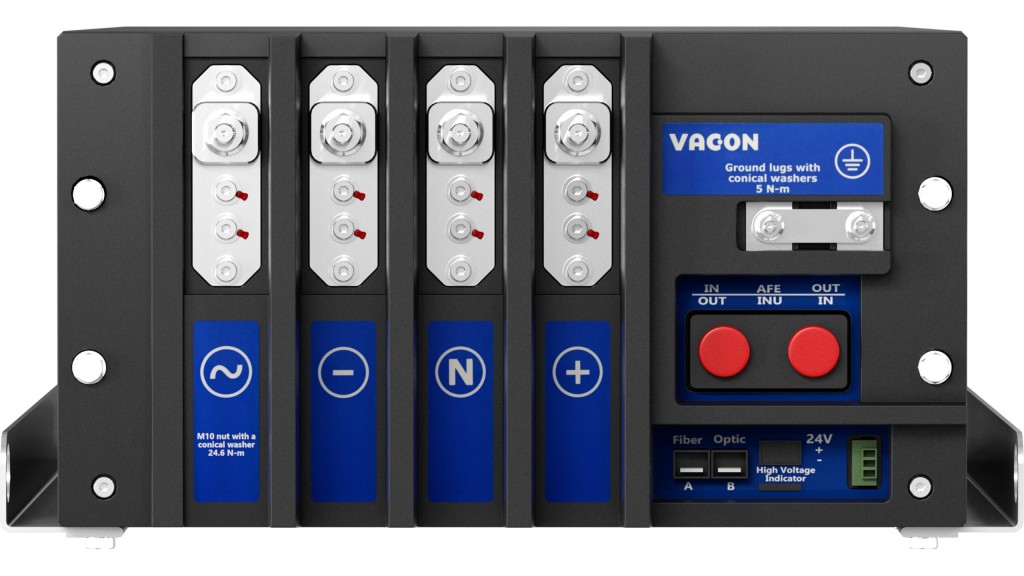 Heavy-duty electric motor applications grow more demanding all the time, and many such applications can be found in locations that can be challenging, requiring specialized designs to ensure they can operate as efficiently as possible.
Medium voltage electric drives powering these motors are also a growing segment for industrial applications. Like the motors themselves, they need to meet strict standards and fit into the operator's designs. In industries such as oil and gas, both onshore and offshore, space requirements are demanding and flexibility is welcomed – though not often available.
For Danfoss, a manufacturer of low voltage drives, the medium voltage market has been a priority since the acquisition of Vacon recently. That addition to the established international company sparked a move into the medium voltage industry, with a unique modular drive – and a new relationship with its dealer partners to help end users get the drives they need in the form factor they require.
"Medium voltage drives are a very natural extension to what we already do – the same segments that use low voltage drives also use medium voltage drives, and all the same applications where you would use a medium voltage drive may see a low voltage drive in use," said Dan Isaksson, head of medium voltage drives for Danfoss. "We have specific customer needs, regional needs, traditional ways of doing things, so the drive market can be very fragmented… There's a need for adaptation."
Most medium voltage drives on the market are designed as a pre-packaged kit that is inflexible and potentially difficult for customers to fit into the site where their motors are to operate.
"Practically all of the medium voltage drives on the market today are pre-packaged. There are some differences between different suppliers – there is some variance, some options, but they're intended to serve all segments and all applications in all regions for all customers," he said. "It's a little bit like Henry Ford's saying that you could get a Model T Ford in any colour as long as it's black."
That one-size-fits-all approach means system integrators and others must come up with a design that incorporates the bulky cabinets that the drives come in, rather than incorporating them into a more streamlined design. That is a marked difference from the low voltage market that Danfoss is familiar with.
"For low voltage drives, only about 13 percent is pre-packaged by manufacturers, while the rest is packaged by integrators and OEMs. Before now, in medium voltage, it has been 100 percent," Isaksson said. "That means there's a need there that is not being fulfilled."
More efficient designs mean better safety, cost effectiveness, and more to operators of electric motors. So, when Danfoss started developing its medium voltage drives, the company decided to take a different approach.
"We would like to find a way to fulfill the needs of the individual specific segments and applications of customers. We want to do this by providing a kit – a medium voltage drive and all the components, sent to our partners, who then have the ability to provide specific solutions in the specific segment where they are active," Isaksson said.
Drives handle 3,300 to 4,160 volt range
The Vacon 3000 drive is designed to meet the needs of applications in the 3,300 and 4,160 volt range, and is available in powers up to 6 megawatts. It is built to allow complete customization of the drive enclosure, making it easier for Danfoss partners to create packages that better fit the needs of their industries.
"Our kit includes the drives, the power electronics, the motor control, modulation, and more. The rest of the components are basically those that are commercially available," Isaksson said.
The Vacon 3000 includes a simplified pre-charge unit design, making it more compact for space-sensitive applications. Flexible front-end configuration options are included, such as a diode front-end based 12-pulse configuration and an active front end option for regenerative braking and low harmonics. A fully-graphical user interface allows for faster setup and use, with a range of control options. Passive components for the drive system include LC filters and common mode filters for AFE variants, DC chokes for 12-pulse variants, and output du/dt filters.
Simple, easy to handle inverter units that are compact, robust and liquid-cooled make the Vacon 3000 ideal for adverse conditions. Single-phase modules with grounded heatsinks simplify serviceability.
Units fit in any configuration
Isaksson said the units are easy to work into any required configuration thanks to the overall simplicity of the design.
"It is easy to access, and also easy to fix, easy to lift, easy to handle – it takes five minutes to get it out of the cabinet if it needs to be changed," he said. "We try to reduce everything that's not absolutely necessary if there's any way around it. For example, inside, there are no moving parts – there's no cooling fan or anything else. There is no need to ever open this… it's very robust."
Danfoss is also launching a program to work with its partners in deploying the Vacon 3000 medium voltage drives. The Medium Voltage Partner (MVP) program will help get the units into the field and working with greater ease, according to Claudio Baccarelli, director of the partner program.
"We are making this program to provide all the tools, support, training and all the details that we believe our customers need to deliver a definite-purpose drive," he said. "We are looking for selected and committed customers who bring their expertise to target segments that we believe our products can be used in."
The MVP program is a web-based service program that will support OEMs and system integrators, offering tools, resources, engineering support and training, as well as partner certification.
"We want to provide training to make our partners capable of building their own drive. We also wanted to continue to transfer all the knowledge we have inside the company to our partners," Baccarelli said. "We are putting together a certification process where we will make sure that our partners will have their engineering staff certified by us."
Partners will have access to online information through a dedicated portal, ensuring they are up to date on the drives and training opportunities that may come up, Baccarelli noted.