Flange containment system diverts leaks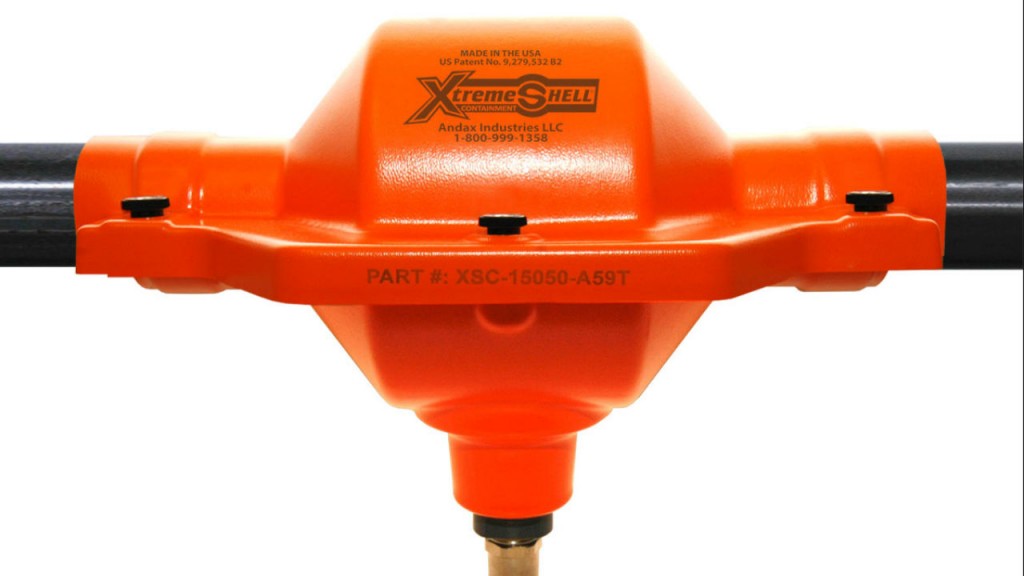 Leaking flange? Don't shut down — contain it and divert it with the Xtreme Shell manufactured by Andax Industries.
The Xtreme Shell is a rigid, two-piece shell designed to fully encapsulate a leaking flange, valve, manifold or leak point.
The Xtreme Shell diverts the leak via a drain port and discharge line to a secure containment system — thus allowing you to mitigate an emergency and allow you to perform any required maintenance at your convenience, even if it's a year later. Virtually eliminate the mess, danger of accidents, injuries, ground contamination and unsafe working condition around machines and walkways.
Simple, quick install
Reusable
Short or long-term solution
Indoor and outdoor use—UV resistant
Impact-resistant to -20° F
Easily handles fluid temperatures up to 200° F
Compatible with oil, petrochemicals, paint, organic fluids and many other liquids
Have a remote location that you need to keep an eye on? No problem: add Leak Monitoring. Get text messages to track the contents of the barrel. Manage all of your Xtreme Shells online or on your smartphone.
Related Articles
The new Volvo EC950F crawler excavator was made for large haulers. In fact, it can fill our 60-ton A60H haul truck in just four bucket passes with an average cycle time of just over a minute. With the perfect pair from Volvo, you can improve efficiency, burn less fuel and keep your haulers moving.
Watch these two powerful machines load four passes in just over a minute.