Seeq announces first update to its software application for 2018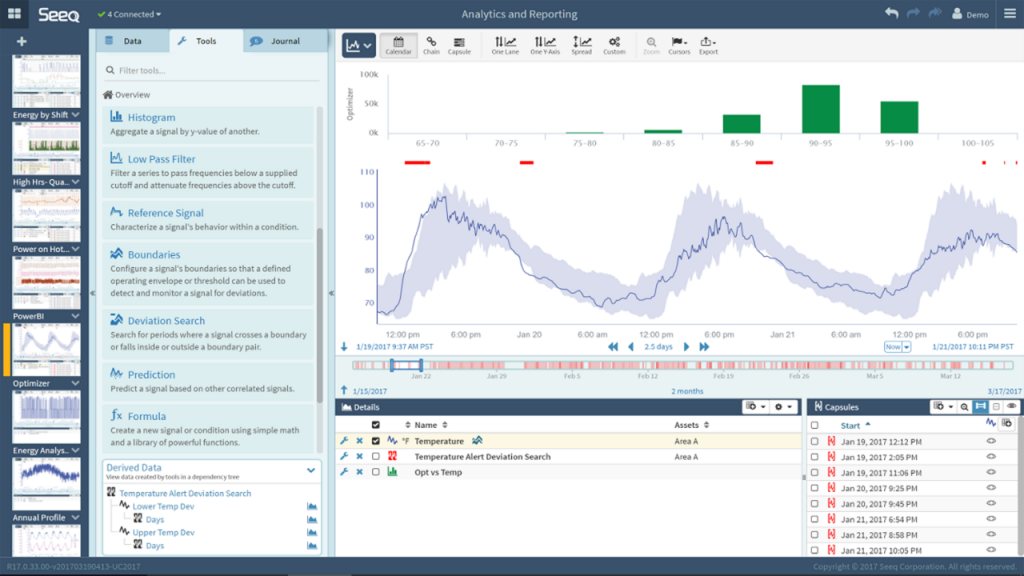 Seeq Corporation announces the release of its first update to the Seeq software application in 2018, staying on plan to provide four new releases each year. This is the eighth release of Seeq software in just the past 24 months, driven by input from customers expanding their use of Seeq.
Seeq is a visual analytics solution for engineers and scientists in process manufacturing organizations to rapidly wrangle, investigate, and share insights on production data. Target markets include oil & gas, pharmaceutical, chemical, energy, mining, food and beverage, and other process industries.
"Our development efforts are keeping up with customer feedback and supporting ever larger deployments of Seeq within and across organizations," says Steve Sliwa, CEO and co-founder of Seeq Corporation. "Key to accelerating analytics is enabling our customers to quickly and easily leverage Seeq for insights, collaboration, knowledge capture, and publishing."
Recent releases of Seeq have focused on enabling larger deployments through scalability features in the software, and by making the Seeq application easier to use. Scalability features in R19 include parallelization of complex calculations across CPUs within a single server, administration tools for performance optimization, and increased control and visibility by users into their efforts with real time progress indicators.
R19 usability features are focused on capsules, the innovative data objects in Seeq for working with single or multi-dimensional time periods of interest. Users can now simply select capsules to define a custom group of capsules, for example choosing a set of capsules to define an optimized outcome or failure state. And users can leverage capsules when monitoring processes by seeing which capsules are currently "in process" to compare in-progress batches against historical averages of past results in real-time.
In addition to product development efforts, Seeq has received increased attention from leading industry and financial analyst firms. Darcy Partners, a technology research consultancy serving upstream oil and gas companies, highlighted Seeq as one of the most innovative advanced analytics firms serving the sector. Their research study looked at more than 100 data analytics vendors and concluded with an invitation sent to a select group, which included Seeq, to present before Darcy Partners' clients at a technology forum in Houston on November 28, 2017.
"Seeq was featured in our study and asked to present to our clients because it developed an innovative approach that puts data science capabilities into the hands of engineers so they can begin solving big data challenges themselves," said Trent Jacobs, a Senior Researcher & Technology Scout at Darcy Partners. "The product, coupled with a growing track record of success in oil and gas, showed us that Seeq is on course to be one of the early data analytics success stories making a difference in the industry."
Related Articles
The new Volvo EC950F crawler excavator was made for large haulers. In fact, it can fill our 60-ton A60H haul truck in just four bucket passes with an average cycle time of just over a minute. Right now, get 0% for 24 months to save up front, then enjoy improved efficiency and lower fuel consumption to spend less down the road.
Learn more about how the perfect pair from Volvo boost your profitability.