Husky to suspend SeaRose operations after ice management incident report released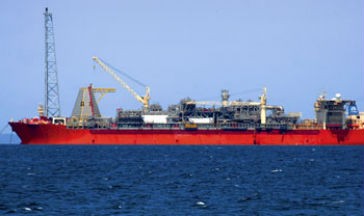 Husky Energy's SeaRose floating production, storage and offloading vessel (FPSO) will suspend operations in the wake of an investigation following a near miss with an iceberg in March of 2017.
The company stated that it will take steps to suspend operations after an order was issued by the Canada-Newfoundland and Labrador Offshore Petroleum Board (C-NLOPB) that found Husky's response to the close call was lacking.
According to the C-NLOPB, the incident occurred March 29, 2017, when an iceberg crossed into the quarter-nautical-mile zone around the SeaRose designated as an ice exclusion area. Husky's ice management plan called for the vessel, with 84 crew and more than 340,000 barrels of crude oil aboard, to disconnect from its current operations and move away from the iceberg. Instead, the FPSO remained in place, and at one point crew were instructed to muster and 'brace for impact.' The ice passed by both the ship and subsea infrastructure with no damage and no injuries.
"This decision to suspend operations was taken now because of the preliminary report findings, which included: Husky did not follow its IMP; onshore senior management did not ensure the IMP was followed; and the Offshore Installation Manager failed to disconnect in accordance with the IMP. These findings have been shared with Husky and speak to the C-NLOPB's concerns with the Operator's adherence to its emergency response plans," the C-NLOPB report stated. "The C-NLOPB has determined there are serious issues respecting Husky's ice management, management systems and organizational decision-making. Based on the enquiry's preliminary findings, the C-NLOPB lacks full confidence that appropriate action will be taken by the Operator during an emergency situation. The SeaRose FPSO's petroleum-related operations will remain suspended until the C-NLOPB is confident that corrective and appropriate actions to address the findings related to its ice management, management system and organizational structure have been addressed to the satisfaction of the CSO and Chief Conservation Officer, in a manner that ensures the safety of personnel and the protection of the environment."
"We could have and should have responded differently according to the pre-existing plan, and we will learn from this incident. We will work with the C-NLOPB and take the actions necessary to satisfy the regulator," said Husky CEO Rob Peabody.
The SeaRose FPSO currently produces about 27,000 barrels of oil per day. Operations will be suspended in a safe, controlled and environmentally prudent manner, Husky stated