Oildex releases next generation digital field ticket solution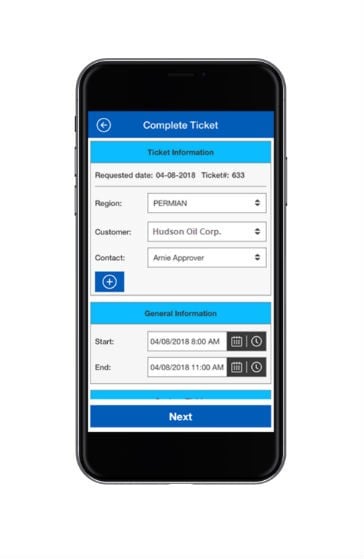 Oildex has introduced OpenTicket, the next generation of the company's digital field ticket solution. OpenTicket is the industry's only comprehensive, end-to-end cloud-based platform that provides both operators and service providers with all the software they need to generate, review and approve digital field tickets. New capabilities of OpenTicket include a dedicated mobile application that supports both online and offline generation of digital field tickets, support for Drilling & Completions (D&C) and Lease Operating Expense (LOE) organizations, and processing optimizations that speed payments, improving operator/supplier relationships.
"Highly inefficient paper field tickets are the last obstacle to overcome when it comes to automating and digitizing the oilfield," said Craig Charlton, CEO of Oildex. "OpenTicket solves this problem and allows service providers to quickly and easily submit field tickets while allowing operators to quickly and easily approve those field tickets. Coupled with our OpenInvoice platform and recently announced Supply Chain Finance program, we are creating the most efficient source-to-settle ecosystem in the oil & gas industry."
New Capabilities in OpenTicket
Complete solution for both operators and service providers: Through online portals for both operators and suppliers, OpenInvoice integration, a cloud-based collaborative workflow engine, integration APIs and a dedicated mobile application, OpenTicket is a complete solution for both service providers generating and submitting field tickets, as well as operators adjudicating and approving field tickets.
Offline mobile support for service providers: A native iOS and Android mobile app allows for the creation of digital field tickets as work is completed with Store and Forward functionality, so it works even when service providers are offline. The application features a user interface designed with the needs of service providers working in the field in mind.
Support for Drilling & Completions (D&C): New OpenTicket D&C functionality including rentals support, as well as integration with industry-leading morning reporting systems to provide accurate up-to-the-minute cost information from field tickets submitted via the mobile app.
"Virtual Company Man" capability: For Lease Operating Expense (LOE) production operations field supervisors, OpenTicket provides a 'virtual company man' capability whereby service provider personnel become members of a virtual team, allowing the field supervisor to be aware of all operations and costs across a broad geographic territory in near real time.
Optimized processing expedites approval enables 'Pay on Ticket': Several new processing improvements such as automated price book reconciliation allow OpenTicket to significantly decrease the time associated with the approval, invoicing, and payments, leading to improved operator/service provider relationships.
"With the introduction of OpenTicket, Oildex seems to have figured out a solution to a problem that has plagued the oilfield services industry since the very beginning," said Bob Cohen, Research Director, Ardent Partners. "Oildex has streamlined the field ticket process by offering reconciliation with price books and purchase/work orders, added support for auto-approval scenarios that automatically 'flip the ticket' into an invoice, and applied AP workflow and approval capabilities to the field ticket automation process."

By removing the use of traditional paper field tickets, OpenTicket improves safety by eliminating unnecessary travel, makes all field ticket information analyzable data to support analytics initiatives, gives field supervisors complete visibility into all activities and costs, and automates compliance and reconciliation processing to expedite approvals and payments. OpenTicket fully integrates with OpenInvoice to create a seamless and automated platform for submitting field tickets and creating digital invoices for review and approval.
Formerly known as OpenInvoice Field Ticket, OpenTicket is available now. Operators can subscribe to OpenTicket and purchase OpenTicket Mobile seats they can distribute to their service providers. Existing Field Ticket subscribers will be able to obtain OpenTicket Mobile licenses from Oildex. As an agile development shop, Oildex updates OpenTicket every month. While most of the new capabilities in OpenTicket are already available, some including D&C functionality is planned to be available this summer.
Related products
Related Articles
The new Volvo EC950F crawler excavator was made for large haulers. In fact, it can fill our 60-ton A60H haul truck in just four bucket passes with an average cycle time of just over a minute. With the perfect pair from Volvo, you can improve efficiency, burn less fuel and keep your haulers moving.
Watch these two powerful machines load four passes in just over a minute.