Durable screw and vane pumps from SPX FLOW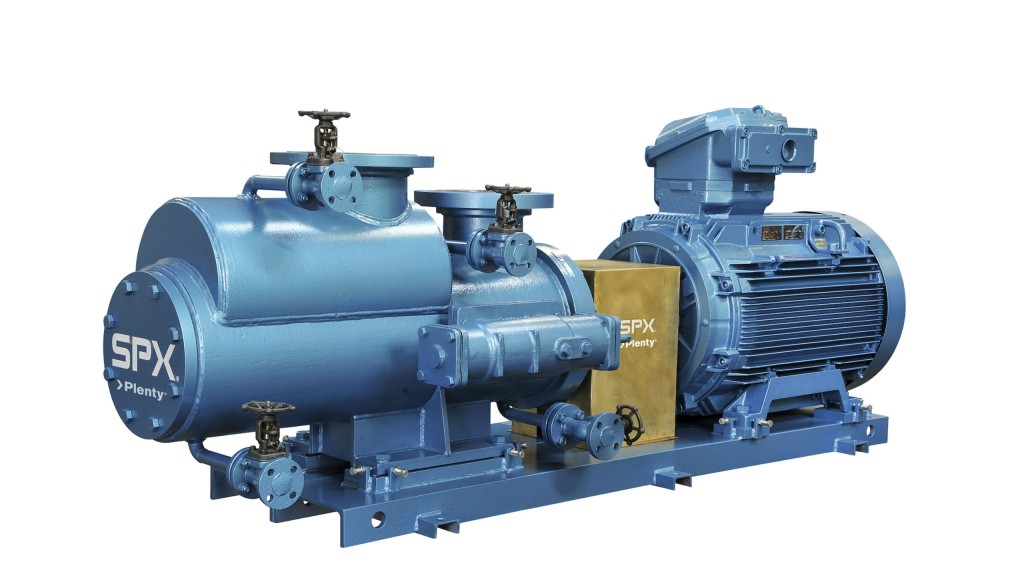 Within the SPX FLOW business, the breadth and depth of pumping knowledge is based on decades of pump development and experience. From its Plenty brand comes a wide range of vane and screw pumps which are widely used for the pumping of heavy viscous fluids across industries such as oil & gas, power generation and naval, and are ideal for forced lubrication of rotating machinery and fuel transfer processes.
Plenty Triro triple screw pumps provide reliable, quiet, pulse and vibration free operation. The clever design of these compact pumps with just three moving parts, increases pump reliability, reduces noise pollution, simplifies installation requirements and minimizes impact on other downstream equipment. They deliver a stable flow of fuel and oil and offer better efficiency than equivalent centrifugal pump models.
Well proven within the oil and petrochemical industries, the Plenty Twinro two screw pumps offer an ideal solution for heavy duty fuel transfer in accordance with API specifications. The pumps are designed for economical, reliable, safe operation; can handle most bulk liquid transfer duties, and are used extensively in bulk loading and unloading applications. Each rotor is a precisely machined piece, the accurate screw profile ensures volumetric efficiency, accuracy, low running costs and reduced deflection even at high pressure discharge.
The design excellence and application expertise SPX FLOW offers with its Plenty pumps mean customers return time and again. These well-trusted solutions are backed by the peace of mind of dealing with a large, global corporation but with a very personal service capability.
The unique SPX FLOW Plenty vane pump offers advantages over conventional vane pump technology with gentle, low shear pumping action; low rate of wear; lower running costs, and variable flow without the need for variable speed drive systems. The pump incorporates a rotor between the vane tips and the stationary body core with two sets of parallel flats machined on the inside surface against which the vanes run. The ends of the vanes are angled to give a component of force to drive the rotor around and, creating the same action as traditional vane pump designs, the shaft and rotor centrelines are eccentric and form expanding and contracting cavities as the shaft rotates. Precision engineering, heavy blades and high quality manufacturing ensure the Vane pumps offer long life and exceptional performance.
SPX FLOW's experience with refinery and oil & gas specifications means that customers are assured of compliant solutions with all necessary documentation. The understanding of international specifications is supported by innate industry expertise and the ability to customize and package a pump to meet the most exacting of requirements. Indeed, customers use Plenty pumps again and again because of the understanding and close business partnership offered by SPX FLOW and the knowledge that solutions are supported throughout the lifecycle of an installation.
Company info
Related products