Ensuring workforces arrive on the job site on time
Key solutions for workforce logistics management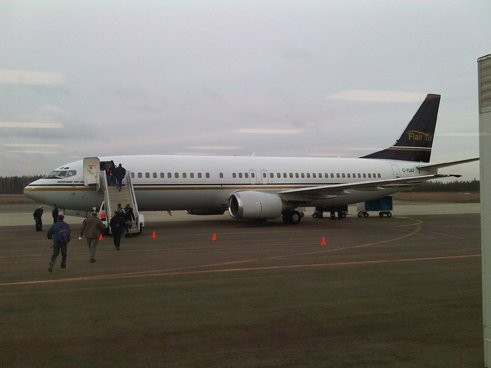 Every chief operations officer, HR director and project manager knows workforce transportation plays an extremely important role in the profitable and timely completion of any given project. Nowhere is this more applicable than in the oil, gas, mining and construction industries, where remotely-located projects demand fresh crews on a predictable schedule to keep processes running at maximum efficiency.
"C-level project managers realize that any disruption in a billion-dollar project has a significant effect, as even a one-percent loss in productivity because of workforce travel disruptions quickly decelerates into a multi-million dollar cost overrun and/or completion delay," points out Wendy Yates, whose company, CREW Logistix, consults companies on their workforce logistics to maximize productivity, maintain controls and contain costs.
The logistics of getting crews to remote work sites can be staggering, yet workforce transportation is far from the core competence of most mineral and energy industry executives. Hence the reliance on firms that provide complete transportation solutions, from aircraft to crew to all other needs, and to wherever they need to go.
To the border of the Arctic Circle
Fort Nelson, BC is on the border of the Yukon and the Northwest Territories, just south of the Arctic Circle – and is about as remote and inhospitable as you can get. One of the key stabilizing and driving forces in the local economy is Encana Corporation, a leading North American energy producer. Encana holds approximately 1.6 million acres of land in the Greater Sierra oil and gas field, in and around the Fort Nelson area. With a regular crew of skilled workers staffing an energy facility, drawn from all over Canada and the United States, Encana provides a major boost to the local economy.
"We need a significant workforce on a regular basis at one of our plants located near Fort Nelson, British Columbia," says Terry Wallis, Lead, Travel and Aviation for Encana. "To attract skilled workers from all over the continent, the best arrangement is to bring them in for two weeks and then take them back home."
For transporting its workforce, Encana currently contracts with Flair Air, a large-aircraft charter carrier that is backed up by Kelowna Flightcraft, both in Kelowna, BC. Flair Air has developed and operated comprehensive workforce transportation solutions for corporations such as Encana, Suncor Energy, Exxon, Total and Royal Dutch Shell – for whom Flair rotated between 10,000-12,000 people a month during construction of a major oil-processing plant near Fort McMurray, AB.
Yet moving such a quantity of workers in and out of such a small town can create logistical nightmares, particularly when trying to do so cost effectively, rapidly and safely.
Says Wallis, "The reason transportation is so critical is because you can't move the group out that is there until the new force comes in. It is really important to keep that on schedule."
From canoes to aircraft
Fort McMurray has long been known for its oil sands. Used by the Cree Indians for hundreds of years to waterproof their canoes, the oil sands were first officially recorded by European explorer Alexander MacKenzie in 1790.
Under development since 1967, due to advancing technology the oil sands are now a viable resource.
One of the major players there is Shell Oil. With a significant workforce in the area, transportation logistics became a major issue, with thousands of flights from a small airport annually.
"For its Albian Sands Expansion Project, Shell also selected Flair for supporting its project, which involved 130,000 passenger flights in and out of Albian Airport per year from up to 24 different airport locations across the continent," says Yates. "Given the magnitude of such an undertaking, workforce logistics plays a prime role in productivity."
Several elements come into play when identifying an air-transport carrier than can reliably maintain critical workforce continuity. The careful consideration of each element pays off by increasing the workforce's time on tools and thus overall project profitability.
1) Advance planning
The planning of moving workforces needs to be started as part of the initial project planning phase and labour contract negotiations before contracts are signed; not as an afterthought, particularly when isolated sites are involved.
"From my experience, logistics is often the last item to be discussed, with dire consequences," notes Yates. "If the morning flight doesn't arrive until 10 a.m., by the time the people de-board, get their bags, and get bused to the work site, a half day of work is gone. If you lose a half-day off every rotation, that's 10 percent of your 14/7 crew rotation, even more on a 10/4, wasted. You must integrate the logistics plan with the project schedule."
The company seeking workforce transportation should find in a charter carrier a strategic partner who is willing to: a) conduct a comprehensive demand analysis based on the project's schedule and goals; b) select the appropriate aircraft type based on load requirements; c) integrate aircraft and crew schedules with workforce utilization requirements, and d) propose ongoing data collection and analysis to enable long-term transportation management for greatest efficiency. Keeping in mind that the right carrier can have major impact on the timely and cost effective operation of the project.
2) Reliability
While utilizing a contract air carrier saves time since workers do not have to contend with traffic queues, parking delays, crowded check-ins, or terminal chaos, that time savings can amount to naught if the chartered plane isn't ready to go because of mechanical issues.
"Delays can be quite costly," notes Wallis. "We move crews in and out as close to schedule as possible to stay efficient. If Flair was not able to fly for us for any reason, their responsibility is to ensure we have an alternative aircraft so the business continues to run smoothly."
In the Shell project, Flair Air was responsible for moving over 10,000 workers per month to the small, remote Fort McMurray area. This involved not only equipping aircraft with specialized avionics but also the establishment of a remote aircraft maintenance base.
3) Flexibility
A prime benefit of a dedicated charter air partner is responsiveness: does the carrier run a scheduled air service in addition to charters (that could take priority over moving workforce contract agreements)? The carrier should be able to customize all facets of the operation, from modifying seating layouts to fit anywhere from five-dozen business-class seats to 170 economy passenger seats, to departure times and flight routings, to flexibility for customer travel schedules, or even additional baggage capacity.
"We asked Flair to create special colour coded bag tags for our travelers to identify what camps they should be sent to, which they provided," notes Wallis. "They do their best to accommodate all of our requests. We have a very good relationship with Flair's management. If a situation arises, we speak with one of their decision makers who help us work through a solution."
4) Safety
As charter companies are oftentimes small, their safety can be called into question. Some very large corporations set up their own standards that the air carrier must meet. Royal Dutch Shell, for example, thoroughly audits Flair Air's services on an 18-month cycle. Flair has also undergone more than six other private safety audits over past few years. Smaller companies can bring in private aviation auditors to vet potential suppliers.
"Any aviation company that we work with has to have been audited and approved to meet our safety standards," concurs Encana's Wallis.
The advancement of newer technologies can also increase safety. Some airlines have invested in Flight Data Monitoring (or Flight Operations Quality Assurance) to enhance the oversight on both mechanical systems and personnel.
5) Cost effectiveness
Probably the number one reason to utilize a chartered aircraft for workforce logistics is the large amount of expense avoided in purchasing and maintaining dedicated corporate aircraft for such purposes, which can be limiting in terms of flexibility – particularly for peak periods.
"I examine three pillars of success for the profitable completion of any large industrial project: on-time, within budget, and safety," says Yates. "If you can carry those pillars to the workforce logistics plan and make sure your air carrier will work with you to match them, then you increase your odds of achieving a successful result."
Ultimately, with any contract, you are buying the people, not the plane. A group that is responsive to your needs is really the bottom line, whether you are traveling to oil fields in Brazil or up North to the Arctic Circle.