Enbridge Inc. reports strong third quarter 2018 results and significant progress on strategic priorities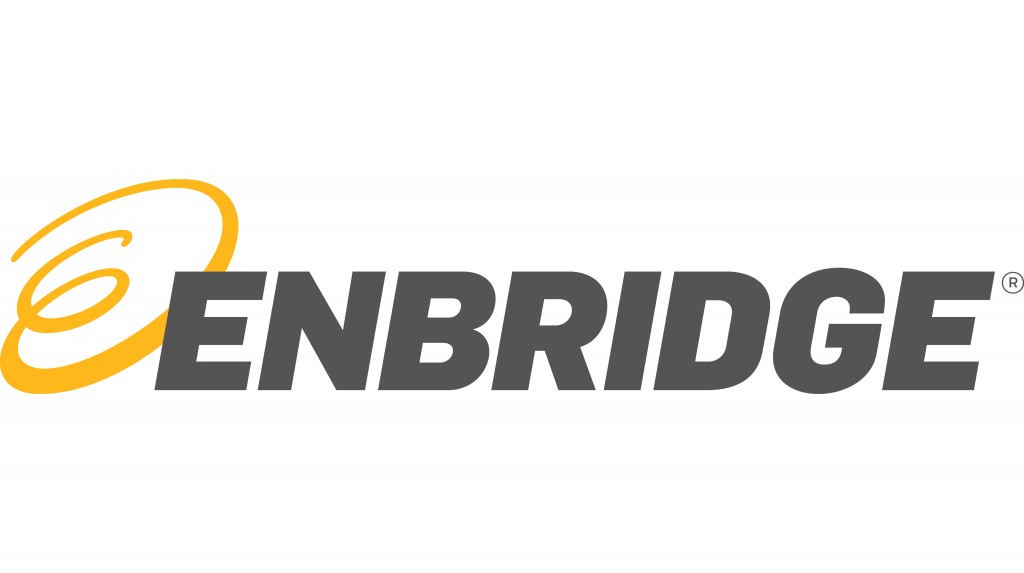 Enbridge Inc. has reported third quarter 2018 financial results and provided a quarterly business update.
THIRD QUARTER 2018 HIGHLIGHTS
(all financial figures are unaudited and in Canadian dollars unless otherwise noted)
GAAP loss of $90 million or $0.05 loss per common share for the third quarter, compared to earnings of $765 millionor $0.47 earnings per common share in the third quarter of 2017, both including the impact of a number of unusual, non-recurring or non-operating factors
Adjusted earnings were $933 million or $0.55 per common share for the third quarter, compared to $632 million or $0.39 per common share in the third quarter of 2017
Adjusted earnings before interest, income tax and depreciation and amortization (EBITDA) were $2,958 million for the third quarter, compared to $2,586 million in the third quarter of 2017
Cash Provided by Operating Activities was $1,461 million for the third quarter, compared to $1,568 million for the third quarter of 2017
Distributable Cash Flow (DCF) was $1,585 million for the third quarter, compared to $1,334 million for the third quarter of 2017
On track to achieve financial guidance for 2018, with outlook for DCF per share expected to be in the upper half of the guidance range of $4.15 to $4.45 per share
Bringing $7 billion of new projects into service in 2018, including the US$1.3 billion NEXUS and US$0.2 billion TEAL gas pipeline projects that began service in October and the US$1.6 billion Valley Crossing gas pipeline project that is now complete and in service for November
Continuing progress on the Line 3 Replacement Project: Agreement with the Fond Du Lac Tribe in Minnesota on final routing; Minnesota Public Utilities Commission (MPUC) Written Orders for the Certificate of Need and Route Permit received; and construction progressing in Canada
Proceeding with the amalgamation of the Company's Ontario based natural gas utilities following approval by the Ontario Energy Board (OEB)
Receipt of $5.7 billion of proceeds from non-core asset sales which will accelerate de-leveraging, provide increased financial flexibility and further focus the Company on its low-risk pipeline and utility businesses; remaining $1.8 billion of announced sales proceeds expected in first half of 2019
Reached agreements with the Independent Committees of the Company's sponsored vehicles for the acquisition of all of the outstanding equity securities not already beneficially owned by Enbridge; targeting all closings by the end of the fourth quarter
Suspended the Dividend Reinvestment Program (DRIP) effective with the December 1, 2018 dividend payment; no additional equity capital required to fund the current $22 billion secured growth program
Responded quickly to restore partial transportation service following a rupture on the BC Pipeline T-South natural gas transmission system; continuing work to safely restore the system to full capacity
CEO COMMENT
"It was another very productive quarter, both from a financial and strategic perspective," commented Al Monaco, President and Chief Executive Officer of Enbridge.

"The strong financial results in the third quarter underscores the quality and predictability of our business model. The 13% year over year increase in distributable cash flow reflects a growing contribution from each of our core businesses driven by strong operating performance, optimization of throughput on existing assets, synergy realization from the Spectra acquisition and the successful execution of new projects. As a result, we remain confident in achieving our financial guidance for 2018, and expect to end up in the top half of the DCF per share guidance range.
"From a strategic standpoint, we've made great progress in achieving the key priorities that we laid out in our three year business plan last November. In addition to delivering solid distributable cash flow and earnings per share growth, those priorities included executing significant non-core asset sales, accelerating balance sheet de-leveraging and simplifying the overall corporate structure.
"This past quarter we received close to $6 billion of proceeds from the $7.5 billion of non-core asset sales agreements announced this year. These sales will further focus our business on low risk pipeline and utility assets and a significant portion of the proceeds will immediately be put towards debt repayment. At quarter-end our consolidated Debt to EBITDA metric was down to 4.7x, well ahead of our year end target of 5.0x.
"In addition, we reached agreement with each of the Independent Committees on terms for the buy-in of our sponsored vehicles. These transactions are good for sponsored vehicle unitholders and Enbridge shareholders, all of whom will benefit from bringing in these core assets under one simpler corporate structure with greater diversification, more retained cash flow, and an enhanced credit profile.
"Execution of our $22 billion secured capital program also remains nicely on track. We're very pleased that the Nexus natural gas pipeline was placed into service in October and the Valley Crossing natural gas pipeline is now complete and available for service as of this week. These two projects are good examples of the growth from the premium natural gas franchise we acquired through the Spectra transaction.
"The Minnesota PUC has now issued its Written Orders for the Certificate of Need and Route Permit for the Line 3 Replacement Project. We expect to begin construction activities in Minnesota in the first quarter of 2019, bringing the full project into service in the second half of the year.
"Finally, the pipeline rupture on the T-South segment of our BC Pipeline System in early October serves as an important reminder as to why the safety of our systems has and always will remain our number one priority. Fortunately there were no injuries or long-term environmental impacts to the site and we were able to quickly restore partial service to our customers. I'd like to thank the emergency responders for their efforts and the communities and First Nations in the region for their support and cooperation throughout the incident response.
"In summary, thanks to our ongoing strong business performance and the progress we're making on our strategic priorities, including the execution of the Line 3 project, we continue to expect a 10% compound annual growth in cash flow and dividends per share through 2020. We look forward to a more in-depth update to the investment community on our business and financial outlook at our annual investor conference on December 11th," concluded Mr. Monaco.
GAAP earnings attributable to common shareholders for the third quarter of 2018 decreased by $855 million or $0.52per share compared to the same period in 2017, as a result of a number of unusual, non-recurring or non-operating factors, including a non-cash charge of $1,019 million after-tax resulting from the classification of the Canadian natural gas gathering and processing businesses as held for sale, partially offset by the impact of stronger business performance as described below.
Adjusted earnings in the third quarter of 2018 increased by $301 million or $0.16 per share compared to the same period in 2017. The increase was primarily driven by strong operating results from all of the Company's business units, new projects coming into service in the Liquids Pipelines, Gas Transmission and Midstream, Green Power and Transmission and Gas Distribution segments in the fourth quarter 2017 and the first nine months of 2018, synergy realization from the Spectra Energy acquisition and more favourable foreign exchange hedge rates.
DCF for the third quarter was $1,585 million, an increase of $251 million over the comparable prior period in 2017, driven largely by the same factors noted above.
Detailed segmented financial information and analysis can be found below under Adjusted EBITDA by Segments.
PROJECT EXECUTION UPDATE
Enbridge continues to make good progress executing its $22 billion secured growth capital program for 2018 to 2020. The individual projects that make up the secured program are all supported by long-term take-or-pay contracts, cost-of-service frameworks or similar low-risk commercial arrangements and are diversified across a wide range of business platforms and regulatory jurisdictions.
The company has now completed the bulk of its $7 billion of growth projects scheduled to come into service in 2018, substantially on time and on budget. This is comprised of almost a dozen projects across all business units, including expansions to the existing Canadian and US gas transmission systems, the Company's first European offshore wind project and ongoing capital expansion within the utility franchises. Most recently in October, the US$1.3 billion(Enbridge's share) NEXUS and the associated US$0.2 billion TEAL natural gas pipeline projects were brought into service, providing much needed export capacity out of the Marcellus and Utica basins into the upper Midwest and Eastern Canadian markets. In addition, the US$1.6 billion Valley Crossing natural gas pipeline project entered service on October 31, supported by take-or-pay transportation contracts. Volumes have begun to flow in the header system at Agua Dulce, however, exports to Mexico will not begin until the third party downstream Mexican pipeline is placed in service.
LINE 3 REPLACEMENT UPDATE
The $9 billion Line 3 Replacement Project is a critical integrity replacement project that will enhance the safety and reliability of the Enbridge Liquids Mainline System and provide incremental export capacity to Western Canadian producers and increased security of supply for key refining markets along the Mainline system as well as to markets further downstream.

The project continues to progress well on several fronts. In Canada, the 2018 construction season is well under way, with over 60% of the pipe now laid. Remaining construction activities in Canada are on plan for completion mid-2019. In the U.S., the pipeline replacement work in Wisconsin is now complete and has been placed into service.
In Minnesota, the pipeline route was finalized in August when an agreement was reached with the Fond du Lac Band of Lake Superior Chippewa granting the Line 3 Replacement Project an easement through their Reservation. Importantly, this agreement also renews the existing Mainline System easement for a new 20 year term. Following verbal approval of the project in June, the Minnesota Public Utilities Commission recently issued its Written Orders for the Certificate of Need and Route Permit for the Project and all related conditions are being finalized. The remaining permit applications have been submitted to the various federal and state agencies, including the U.S. Army Corps of Engineers, the Minnesota Department of Natural Resources, the Minnesota Pollution Control Agency and other local government agencies in Minnesota. The Company anticipates the receipt of such permits in time to begin construction activities during the first quarter of 2019, and continues to anticipate an in-service date for the project in the second half of 2019.
OTHER BUSINESS UPDATES
On October 15, the Company announced that it is moving forward with the amalgamation of Enbridge Gas Distribution Inc. and Union Gas Limited, its two natural gas utility franchises in Ontario. The terms of the amalgamation have been approved by the OEB. The new incentive rate regulation framework will take effect January 1, 2019, and will enable efficiencies in operations benefiting both ratepayers and shareholders while maintaining a focus on the safe and reliable distribution of energy.

On October 9, a rupture occurred on one of two natural gas lines in Enbridge's BC Pipeline system, approximately 13.5 kilometers north of Prince George. There were no injuries as a result of the incident nor is there any long-term environmental damage to the site. The Company was able to respond quickly and after receiving National Energy Board (NEB) approval and completing a comprehensive integrity assessment was able to get the other unaffected pipeline back into service at reduced pressure. The affected 36-inch pipeline has also now been repaired and placed back into service at reduced pressure. The Company is cooperating with the regulator in its investigation to determine the root cause of the incident as it works to safely restore the system to its full capacity.
FINANCING UPDATE
In late November of 2017, Enbridge released its strategic plan and outlook which included, among other things, a renewed focus on low risk pipeline and utility businesses. It also set out a plan with respect to financing the current $22 billion secured growth capital program through 2020. The plan included common and hybrid equity issuances as well as $3 billion of non-core asset sales in 2018 in order to accelerate planned de-leveraging and achieve a consolidated Debt to EBITDA ratio of 5.0x by the end of 2018.

With the announcement of over $7.5 billion of non-core asset sales this year, well in excess of the $3 billion targeted in the financing plan, Enbridge has effectively satisfied all of its equity funding requirements for its secured growth program through 2020. This quarter, the Company has received proceeds from asset sales of approximately $5.7 billion, with the balance expected by mid-2019. These proceeds will provide the Company with significant additional financial flexibility to further strengthen the balance sheet and fund the secured growth program. As of the end of the third quarter, the Company's consolidated Debt to EBITDA ratio was 4.7x on a trailing twelve month basis, below its target for 2018 of 5.0x.
Given this progress on leverage reduction, the Company announced earlier today that it would suspend its DRIP effective with the dividend payment on December 1, 2018, which is earlier than contemplated when funding plans for the current planning cycle were communicated last November.
SIMPLIFICATION OF CORPORATE STRUCTURE
The Company has now reached agreement with the Independent Committees of its sponsored vehicles, Spectra Energy Partners, LP (NYSE: SEP), Enbridge Energy Partners, L.P. (NYSE: EEP), Enbridge Energy Management, L.L.C (NYSE: EEQ) and Enbridge Income Fund Holdings Inc. (TSX: ENF), to acquire, in separate combination transactions, all of the outstanding equity securities of those sponsored vehicles not beneficially owned by Enbridge.

The buy-ins are strategically and economically attractive to current and future Enbridge shareholders and provide substantial benefits, including:
Increased ownership in its core businesses and further enhancement of its industry-leading, low-risk profile
Significant advancement of Enbridge's strategy to simplify and streamline its corporate structure which further increases the transparency of its strong cash generating assets
Higher retention of cash generated from the assets, which will support continued strong dividend coverage and self-funded growth
An improved Enbridge credit profile due to the elimination of sponsored vehicle public distributions, as well as opportunities to minimize the structural subordination of Enbridge's parent company debt
Significant benefits to Enbridge's post 2020 outlook primarily due to tax optimization synergies
ENF has filed its Management Information Circular. The proxy voting materials have been distributed to the shareholders ahead of the shareholder meeting date which has been scheduled for November 6, 2018. Closing would be targeted for shortly thereafter, subject to shareholder vote and the Court of Queen's Bench of Alberta approval.
In the case of SEP, Enbridge holds sufficient SEP common units to approve the SEP merger and the related merger agreement though a written consent process. This process will occur in the fourth quarter with the transaction closing targeted for mid-December.
In the case of EEP and EEQ, a unit/shareholder vote date is targeted for December 17, 2018, with the transactions expected to close in late December, subject to unit/shareholder approval.
Proxy materials for SEP, EEP and EEQ are expected to be distributed by mid-November.
After taking into consideration these sponsored vehicle buy-ins, previously announced asset sales and other developments, there is no change to Enbridge's current three year financial guidance, including 10% compound annual dividend growth from 2018 to 2020. Management will provide its updated strategic and financial outlook at its upcoming investment community conference on December 11, 2018 in New York.
OTHER MATTERS
The Board of Directors announced that it had accepted, with regret, the resignation of Michael McShane, a Director since February 27, 2017 and a former director with Spectra Energy Corp, due to increasing personal and professional commitments.