Conduct reliable hydrostatic pressure tests with AMETEK STC XP2i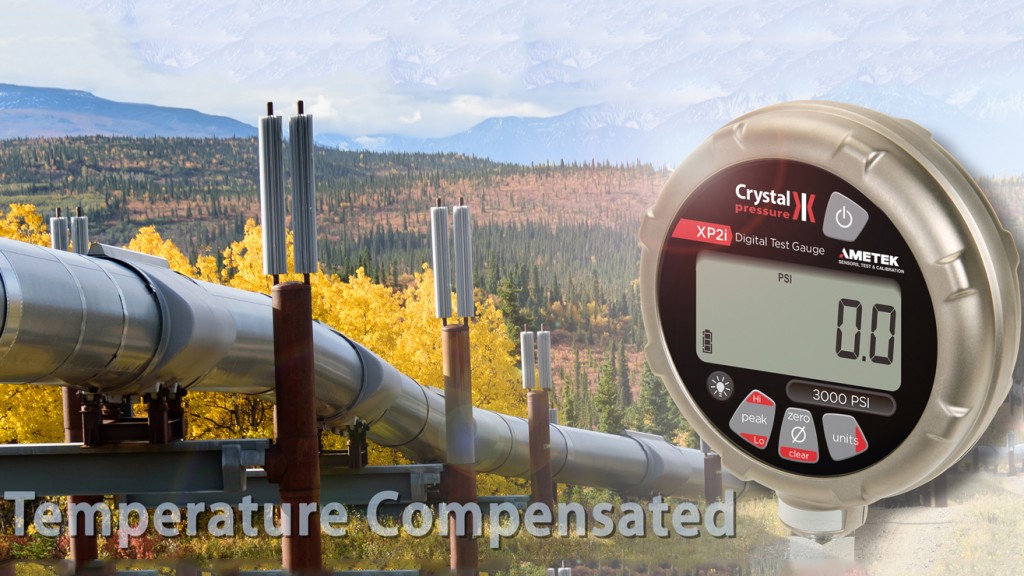 Within natural gas systems, one of the most important methods to verify the integrity of pipelines is through the hydrostatic pressure test. Designed to test the transmission systems - one of the largest sections in a natural gas system - the hydrostatic test varies on the level of requirements. Depending on local regulations, it may require testing pressure and multiple temperatures in the pipeline for several hours prior to and after a pipe is put into service.
The Crystal XP2i Digital Pressure Gauge from AMETEK STC is an easy-to-use, rugged,digital gauge that is used by many companies world-wide to both read and document hydrostatic pressure tests, offering precise, reliable information to ensure safety. The standard XP2i is designed for the rough, in-the-field environments in which many pipelines are located. They are temperature compensated, so the accuracy of the gauges will not be degraded if it's used between -10 to 50°C (14 to 122°F).
For customers looking to record the data collected from their testing, the XP2i with optional DataLoggerXP upgrade records up to 32,000 data points (as fast as 1 reading per second).Free software downloads the information to a spreadsheet for easy storage and accessibility.
Hydrostatic pressure tests are a rigorous safety assessment to ensure pipelines are operating at levels they normally would never experience. It's important to collect, analyze and store the data gathered from these tests to optimize performance and ensure quality in the future. For other offerings, see AMETEK STC's full line of Digital Pressure Gauges.
Company info
205 Keith Valley Rd.
Horsham, PA
US, 19044

Website:
ametek.com
Phone number:
215-674-1234
Read more
Related products