Oil and gas operators maximize production and safety with video analytics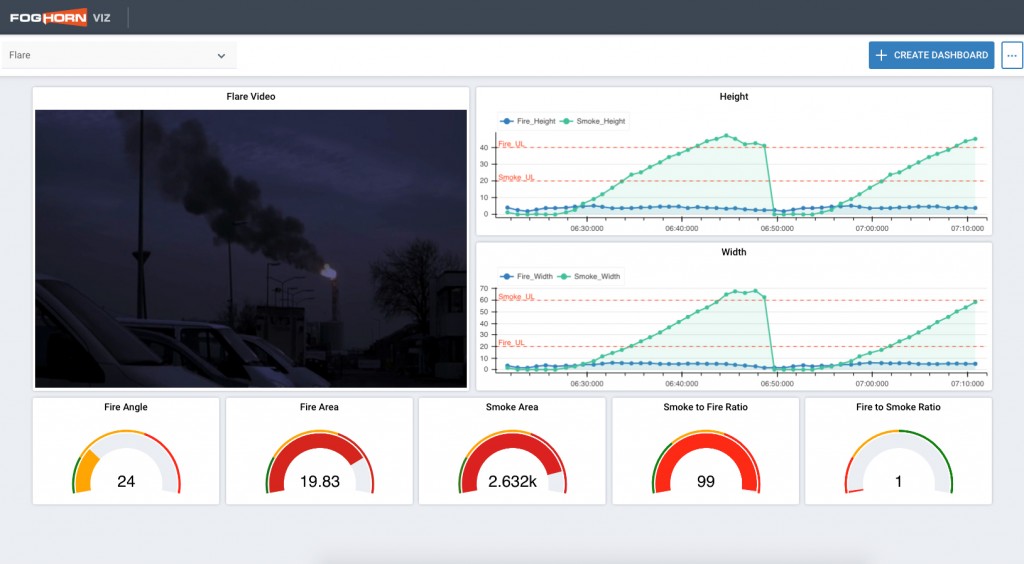 Oil and gas companies are able to monitor flare stacks more closely to maximize efficiency and production, even remotely, thanks to the use of edge computing enabled video analytics. Ramya Ravichandar, vice president of product with FogHorn, explains.
1. What role do IoT and streaming data analytics play in addressing the challenge of monitoring flare stacks?

Although flare stacks can currently be monitored remotely through streaming analytics, oil and gas operators are not free from the tedious tasks of manually monitoring the flame's activity. To further complicate matters, the flame can also burn clear at times - making it appear invisible on camera footage to the naked eye.
IoT connectivity enables the collection of data through machine-to-machine (M2M) communication and allows for the data to be collected and shared with a variety of IoT devices for actionable insights. Streaming data analytics ensures that the constant stream of data is being processed in real-time, allowing for the management and monitoring of live streaming audio and visual data to produce accurate, actionable insights. These insights permit plant managers to make informed decisions, such as adjusting the pressure valves and proactively addressing equipment maintenance needs, to optimize large scale operations.
2. What challenges currently exist as a result of using video analytics for flare stack monitoring?
Real-time video analytics require secure, reliable connectivity in order to route data back to a centralized data center in a timely manner. Without this connectivity, real-time video analytics cannot be used to accurately identify production errors, ensure the safety of work environments, and increase operational efficiency. Unfortunately, oil and gas facilities are often located in remote areas where little to no connectivity is available. Falsely identifying or failing to identify errors due to inconsistent connectivity can result in equipment failure and production downtime.
However, a promising solution awaits with the incorporation of edge computing within streaming video analytics. Edge computing platforms, such as FogHorn Lightning, have the ability to "edgify" deep learning neural networks and allow them to run on edge devices, without sending video feeds to the cloud or a data center. This also provides valuable insights that can be used for flare gas recovery systems (FGRS), providing analytics on noise measurements, thermal radiation, and more.
3. What are the key benefits that edge computing-enabled video analytics can offer to the efficiency of oil and gas organizations?
Video analytics powered through edge computing can operate without connectivity to the cloud, enabling 24/7 monitoring even in remote areas - where oil and gas facilities are often located. Another benefit edge computing offers is the increased operational efficiency through automation, reducing manual data entry and human error. Edge computing also allows for condition-based monitoring, which lowers maintenance costs, improves asset performance and maximize yields by establishing trends, predicting failure and calculating the remaining life of an asset through collected data. Edge computing offers a financial benefits through prescriptive maintenance, which significantly reduces maintenance costs by proactively identifying equipment maintenance needs and problems before they become a catastrophe.
4. How can edge computing and streaming analytics work together to solve the oil and gas industry pain points when it comes to flare stack monitoring?
Organizations within the oil and gas industry must actively monitor their flare stacks in order to help reduce their negative environmental impact. This creates the time-consuming challenge of manually monitoring oil and gas flares, opening the door to the possibility of human error and the delayed identification of production issues, which can prove to be a costly or life-threatening mistake in the oil and gas industry. Failing to effectively monitor flare stacks can result in emissions of carcinogenic gasses, oversteaming and overpressuring of pressure vessels or pipes. Edge computing-enabled video analytics eliminates the need for manual monitoring - cutting labour costs significantly. In addition to these cost-saving benefits, edge computing-enabled video analytics operates without reliance on the cloud for connectivity. This provides reliable, 24/7 monitoring and increases workplace safety by being able to identify potentially hazardous equipment or work environment conditions in real-time, automatically.
5. How will edge computing within the oil and gas industry continue to evolve?
The oil and gas industry will continue to be a key player in the issue of climate change. The insights edge computing provides can hold oil and gas organizations accountable for their operations, proactively preventing devastation such as the Deepwater Horizon oil spill of 2010. Additionally, maintenance needs of the oil and gas industry will continue to exist along with the hefty costs of monitoring and repairing equipment. Edge computing offers a cost-effective and proactive solution for maintenance needs while simultaneously increasing productivity, operational efficiency and reducing risk.
Edge computing solutions can play a major role in reducing risk, lowering maintenance costs and increasing overall processing uptime by monitoring and performing analytics on streaming data in real-time and by responding automatically to issues detected by the sensors. For example, it can immediately shut down a valve and send an alert to a mobile device to avoid a major disruption or damage to a pipeline. Other use cases for edge computing in oil and gas include pump.