Petroteq provides operations update on automation and more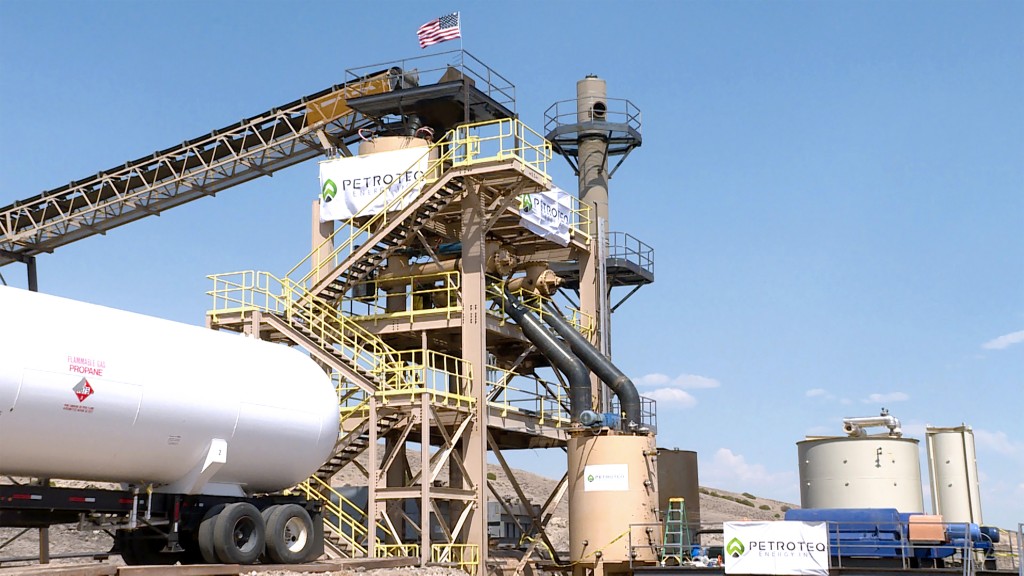 Petroteq Energy Inc., an oil sands mining and production company having a proprietary technology that extracts hydrocarbons from oil sands without the use of water, is pleased to announce the completion of facility automation, a strategic account payment structure with Valkor Oil and Gas and the addition of Dr. Mark Rollins to its advisory board.
The Company has completed the automation of the front end processes for sand separation, oil quality control and centrifugal agitation. The Company believes that with the engineering and technical assistance from Valkor and Alfa Laval, its production of crude oil and potential reduction in operating, maintenance and labor costs will now be achieved. This marks a very important milestone in becoming an oil company focused on the development and implementation of a proprietary, environmentally clean technology for heavy oil extraction.
The Company has also completed a strategic account payment structure with Valkor where the account payable amount for engineering to date of US$989,500 will be paid to Valkor in 3,958,000 common shares of the Company at US$0.25 per share. This is more than a 28% increase to the current trading share value (OTC:PQEFF - November 19, 2019). "In working with Petroteq for the past year at its Asphalt Ridge facility in Utah, and signing a technology licensing agreement in July, it is more apparent that Petroteq's technology is highly effective," stated Steve Byle, CEO of Valkor. "As Valkor has worked on providing many of the solutions to increase the efficiencies in all aspects of the Asphalt Ridge facility, we are pleased to be offering this account payment structure to Petroteq."
The Company is pleased to announce that Dr. Mark Rollins will be joining Petroteq's advisory Board. "Dr. Rollins is joining our company at what I believe to be an auspicious time. His deep understanding of engineering, combined with his decades of commercial experience in the oil sector, will be instrumental in helping communicate the Petroteq story to potential investors and partners around the world," stated Alex Blyumkin, Chairman.
Dr. Rollins was until recently Chairman and CEO of Ukrnafta, the publicly-listed company responsible for 70% of oil production in Ukraine, with 27,000 employees. Between 2008 and 2015, he was a senior executive at BG Group, a FTSE top ten listed E&P company based in the UK. His other experiences have included senior leadership positions across international E&P, midstream and downstream oil and gas, and deregulated utility sectors. He holds a doctorate in Engineering Science from Oxford University, as well as a Master's in Mathematics from Cambridge University.
"I'm very pleased to take on this advisory role at such an exciting time for the company. Having recently achieved the important milestone of continuous production of high-quality crude oil, the Petroteq process is what I believe to be a proven success. I look forward to helping the company capture the full potential of this exciting technology as it goes though the next phase of expansion and development," stated Dr. Rollins.
In addition, the Company intends to complete shares for debt transactions, pursuant to which it will issue an ‎aggregate of 350,000 common shares in satisfaction of US$76,000 of indebtedness (100,000 shares at a ‎deemed price of US$0.21 per share and 250,000 shares at a deemed price of US$0.22 per share) currently ‎owed to two arm's length service providers. The Company determined to satisfy the indebtedness with common shares in ‎order to preserve the Company's cash for use on its extraction technology in Asphalt Ridge, Utah, and for ‎working capital. All shares issued pursuant to the shares for debt transactions (including the shares issuable to Valkor) are subject to TSX Venture Exchange (the "TSXV") approval and ‎will be subject to resale restrictions, including, without limitation, a Canadian four-month hold period.‎