MSA gas monitor offers flexible, economical solution for light industry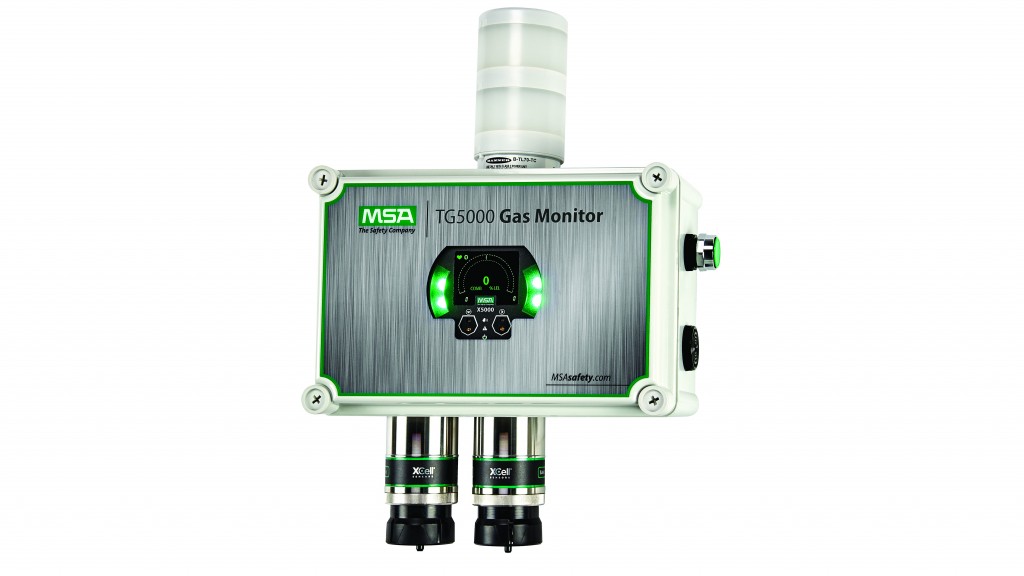 Facilities and plant engineers will find the next-generation TG5000 Gas Monitor from MSA Safety offers them a safe, reliable and effective solution to the detection of oxygen, combustible and toxic gases in a wide range of light industrial applications.
The feature-rich, yet affordable TG5000 Gas Monitor helps personnel to work safely with confidence in an extensive number of environments, offering a variety of gas sensor options and installation configurations. The modular single or dual sensor mechanical design offers application flexibility and helps to reduce wiring costs. The intuitive design of the local interface makes it simple to install, use, and maintain. The organic LED (OLED) multilingual display and bright LED indicators show at a glance the instrument status (power, fault or alarm), the gas readings, and its Bluetooth connection. A touch button interface provides tool-free, rapid access to all instrument settings and functions.
Highly flexible, the TG5000 Monitor can operate on a completely stand-alone basis with its large LCD display, quick-check LEDs, and four relay outputs (three alarm and one fault), or can be connected with a 4-20 mA output to a control system (PLC, DCS, etc.). Digital HART communication also is available. The unit also can be configured for remote monitoring applications, where the installation area requires that the sensor be separated from the electronics. The TG5000 includes a 95dB audible alarm with horn silence control. Optional accessories include a sunshield and a strobe light kit.
The TG5000 features MSA's advanced XCell Sensors, which respond rapidly and reliably to leaking gases to help protect people, equipment, and facilities. The TG5000's XCell Sensors includes MSA's innovative TruCal Technology that achieves lower drift for superior sensor stability and performance. The result is longer sensor life with longer calibration cycles (up to 18 months for H₂S and CO) that require fewer maintenance technician hours, which lowers overall sensor life-cycle costs while maintaining effective protection levels.
The advanced design of the XCell TruCal Sensors also features highly advanced self-diagnostics. These intelligent sensors detect potential failures or maintenance needs without applying calibration gas, compensate for sensor drift due to environmental changes and notify users if the gas sensor becomes blocked. These rugged sensors operate over a wide temperature range from -40 to 140°F (-40 to +60°C). Built-in SafeSwap capability enables the quick replacement of XCell Sensors without turning off the instrument for simplified maintenance.
The TG5000 is available with a helpful Bluetooth interface that connects with MSA's X/S Connect App for Apple iOS or Android platforms. Workers will appreciate the safety of wirelessly accessing the gas monitor up to 75 feet (23 meters) away using the smartphone or tablet of their choice.
In addition to combustible gases and oxygen deficiency/enrichment, the TG5000 is designed to monitor a wide range of toxic gases: carbon dioxide (CO2), carbon monoxide (CO), chlorine (CL2), hydrogen (H2), hydrogen sulfide (H2S), nitrogen dioxide (NO2) and sulfur dioxide (SO2). These sensors, depending on the gas, are designed with state-of-the-art infrared or electrochemical technologies.
The TG5000 Gas Monitor meets a wide variety of industrial facility gas detection needs. From boiler rooms, battery rooms, engineering and research labs, and transportation maintenance facilities, to a myriad of other industrial building and facility applications, each environment has its own monitoring needs. To enable personnel to work safely in these environments, monitoring of toxic gases, oxygen enrichment and deficiency, and combustible gases is absolutely necessary.