Booming oilfield business takes company onto specialized path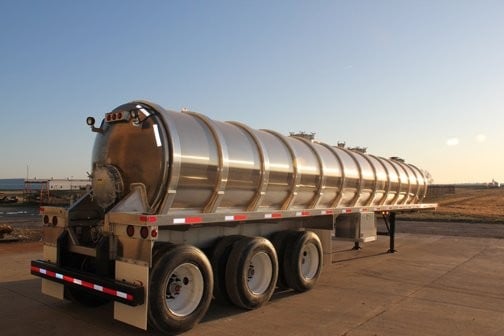 Doubling a company's size and business within a year isn't normally a part of a traditional business plan. In some cases, however, it's a forced and usually welcome turn of events. Bekk's Hot Oil Service, located in Williston, N.D., is an example of a business that has been faced with an abundance of work. The company has stepped up to the plate with only a few snags along the way.
Bekk's, which got its start in May of 2000, began as a three-truck company. At the time, the company performed hot oil service on approximately 50 oil wells in the Williston Basin for several oil companies. The hot oil service process involves circulating fresh water heated to 210 degrees down-hole to melt paraffin deposits inside the tubing. This treatment warms the oil and quickens the flow out of the ground.
Without this process, the oil cools as it is pumped from 6,000 feet below ground level and begins to form a paraffin lining within the pipes, which gradually builds up and restricts the flow. Without an attempt for prevention or removal, the oil's flow slows dramatically and can even be shut off from production all together. In fact, the U.S. Department of Energy states that thousands of oil wells have been abandoned because paraffin problems restricted the well's pipes. Many of these instances involve a well with up to 90 percent of the oil left in the formation.
Just three years ago, Mike Erickson, co-owner of Bekks, was approached by a company wondering whether his company would be interested in hauling fresh water to store in tanks at these sites. Similar to the paraffin lining, saltier wells experience restrictive flows if the saltwater is not cured correctly. These wells need extra fresh water to help dissolve the salt to avoid restricting the tubing. Considering the ground's salt level in The Bakken Region in North Dakota, fresh water was a growing need. To address the problem, many companies were beginning to store fresh water tanks on location.
"It seemed like a good fit for us," Erickson said. "With the addition of a few water tankers and a few more truck drivers, we'd be able to branch into hauling fresh water and grow our business. While we were already busy, we were ready to open the door to a new avenue."
Bekk's purchased four water tank trailers and one additional hot oil truck. With the expanded service abilities, oil companies signed on with Bekks for regularly scheduled visits ranging from once per day to once per month – depending on the salt levels in the well. Some wells need 150 bbls/day, while others only require 10.
But what started as a gradual attempt to expand services and grow the business, skyrocketed to a swelling demand with the rapid growth of wells in The Bakken. By the beginning of 2012, Bekk's four hot oil trucks and four water tankers simply weren't enough to meet the growing demand. Bekk's was serving more than 100 wells, and Erickson began searching for additional tankers to better accommodate the expanding volume of work.
"I called around to several places and just never heard back. The demand was so high and everyone was so busy that I was just getting ignored," Erickson said. "I was getting dejected because I knew there was great potential for growth, but without access to the equipment I needed, I couldn't accommodate that growth. I knew I had to keep looking."
But just like Bekk's, others in the industry are busy too, and the pace isn't projected to slow. In fact, according to a recent prediction from ACT Research, an order placed today for a liquid tank isn't likely to be filled for a full year, and that's just an everyday liquid tank trailer.
Adding to the difficulty of finding the tanker was Erickson's desire to customize it for more efficient use in his operation. He spent weeks searching.
Finally, Erickson found Ervin Equipment, a supplier of new and used trucks, trailers, construction and oil and gas equipment, and he connected with John Connor, a member of the Tank and Specialty Trailer Sales Division.
Erickson explained what his company needed, which essentially was a vacuum trailer with a sump on the bottom. The trailer's port, valve and piping would ideally be relocated to the centre belly, he said, rather than remaining at its usual location at rear of the trailer.
"Bekk's needed a custom vacuum trailer at a time when there was a huge demand," said Connor. "They needed a trailer during a hot market stretch, when orders were taking up to one year to complete. And although the spec wasn't a huge deal in terms of overall construction, nobody was willing to venture from the 'cookie cutter' spec."
Although Bekks was a new customer, Connor was determined to find a solution to his equipment problems and end his long search for the correct tanker. Connor learned what the new customer needed and began sending drawings of a modified 180-barrel vacuum tanker to Erickson.
"They made up a schematic drawing and faxed it to us," Erickson said. "We went back and forth with changes and had solidified a design within one week. They had the trailer built and shipped to us all within about six weeks."
Although six weeks felt like a long time for Erickson and his workers to wait, this time period was much more manageable than without Ervin – a wait estimated to take up to 12 months.
"We knew the trailer was exactly what we needed as soon as we received it. By the time it got here and we saw the outcome, we knew we wanted – and needed – another," said Erickson. "We contacted Ervin and duplicated our order for a second brand new, to-spec trailer."
To date, Erickson and his crew have eight hot oil trucks and eight tanker trailers. Although Erickson purchased a used trailer that works for his operation, he says he's planning to use Ervin's services again in the future. According to Erickson, while the used trailers fulfilled an immediate need for Bekk's and proved to be close to what he and his crew needed, the units aren't as durable as the new units from Ervin Equipment.
As for Connor, he felt the transaction between Ervin and Bekk's was ideal. "Several things made Bekk's and Ervin a great marriage from our perspective and theirs," he said. "They had an immediate need for a specialty trailer. We're out there looking for that out-of-the-norm build that other companies are unwilling to work on. We want to satisfy that need not only with the requested spec, but also the desired time. In this situation, we were able to meet the challenge twice. "